Update, Friday, April 23, 2021

Friday, April 23, 2021
Good Afternoon,
This past week, ALL levels of LBUSD (PRE-K through 12) have been in operation for "in-person" instruction. It has been over a year since the 4th largest school district in the state of California has been fully operational for "in-person" instruction. We know there have been challenges. Safety continues to be a concern, whether it be accurate screenings to appropriate student/teacher ratios. Lift up your voices with your colleagues, grade/departmental leaders and school administration. What worked? What didn't work? And how can we leverage all of our resources to make the next 37 days of instruction a success? We can find creative solutions without being dismissive and respecting everyone's feelings. We've been through a once in "one-hundred" year pandemic (hopefully). Nerves are raw. We are a resourceful lot, let us all pull together to make the final stretch.
---
There's a Name for the Blah You're Feeling: It's Called Languishing
The neglected middle child of mental health can dull your motivation and focus — and it may be the dominant emotion of 2021.
Excellent article from The New York Times
---
Specialized Transfer Openings
The District has posted dozens of positions which are open through an "interview" process. In some cases, a pony might have already been picked for the race and the flying of the position may be perfunctory, but it doesn't hurt to throw your hat in the ring. CLICK HERE
---
Sick Leave Donation Program
By now, every school employee should have had an opportunity to be vaccinated. We know the decision to get vaccinated is a personal choice. Some of our members will get sick with COVID-19 and some of our members are COVID-19 "long haulers" close to running out of sick leave. Please consider donating to your colleagues. For details on how to donate or be a recipient of the program, please click on this link.
---
APPENDIX F Sick Leave Donation Program
The District and the Teachers Association of Long Beach agree to the implementation of the following Sick Leave Donation Program. This program shall be available to all members of the bargaining unit. The District and the Association further agree to review and evaluate the effectiveness of this plan after a full year has elapsed following the ratification of this contract by both the Association and the Board of Education. The purpose of the Sick Leave Donation Program is to provide assistance to bargaining unit members suffering from a catastrophic physical illness or injury. The Sick Leave Donation Program provides employees with an opportunity to be restored to health so they can return to work.
---
ASSOCIATION SITE REPRESENTATIVE ELECTIONS
It has been a challenging year and we expect 2021-22 to have many mountains to climb. United and actively engaged we can create opportunities for our students and our profession. Please consider running to be a TALB Site Representative for the 2021-22 school year.
It is now time for school sites to elect their TALB Association Representative for the next school year. The "Site Rep" is the most important position in TALB. These incredible volunteers make TALB work. They attend monthly TALB Representative Council meetings to represent the interests of TALB members at their school site. They vote to make policy and chart the direction for TALB. They are the direct conduit for important information and updates. They hold regular "Ten Minute Meetings"at school sites to get input and mobilize volunteers for important organizing efforts and campaigns.
Get involved, make a difference, serve your colleagues…run to be a TALB Site Association Representative.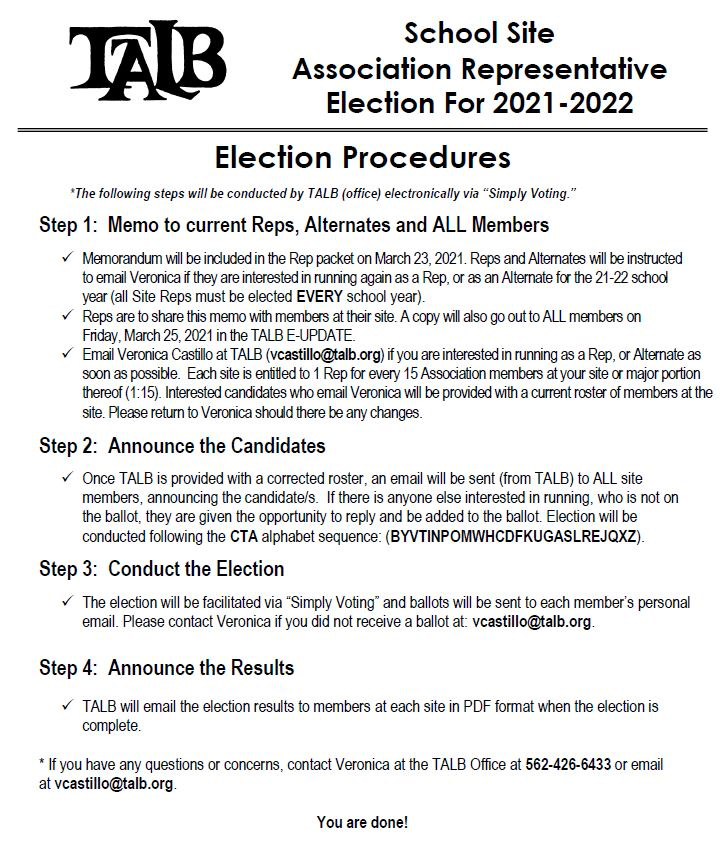 ---
---
Safety counts. Some might not be feeling that way right now. If safety protocols are not being met they need to be reported to the COVID-19 Hotline and keep TALB in the loop.
Stay Safe / Reporting Saves Lives & Keeps Schools open for "in-person" Instruction
If the temperature machine is not working, speak up.
COVID-19 Hotline – (562) 204-6075
If students and staff are not following protocols, speak up.
COVID-19 Hotline – (562) 204-6075
If administrators/principals are not enforcing protocols, speak up.
COVID-19 Hotline – (562) 204-6075
---
We encourage all of our members and community members we serve to LIFT UP YOUR VOICES. Contact our Board of Education Members and Executive Staff  to let them know what you are thinking.
Long Beach Unified School District's YouTube ChannelWatch Live on Wednesday, May 5 @ 5:00 p.m. LBUSD YouTube Channel
---
---