TALB Update: Friday, January 8, 2022
Friday, January 8, 2022
 "Any nation that can survive what we have lately in the way of government, is on the high road to permanent glory." – Molly Ivins
Molly Ivins died on January 31, 2007 at the young age of 62. She was a patriot, and a unique voice that could simultaneously launch outrage and humor against the abuses and incompetence of power. We sometimes wonder what Ms. Ivins would have had to say about this pandemic. 
---
COVID-19 Testing – Starting Monday, January 10, 2022
The Long Beach Health and Human Services department will be offering testing for students and employees of LBUSD, Monday through Friday at Cabrillo High School from 9:00 a.m. to 4:30 p.m. – except from 12:30 -1:30 for a staffing break. Click here for the flyer. We understand that Cabrillo High School is way the hell and gone on the other side of the District, but we are headed in the right direction. As testing capacity and resources become more available, we'll work on having more accessibility throughout the District.
At-Home COVID Testing
Governor Newsom has promised millions of at home testing kits. The latest report, these testing kits are at the Los Angeles County Department of Education. Delivery is rolling out slowly with plenty of excuses, but they are coming. When we have specifics we'll let you know.
Surgical Grade Masks


Given that the Omicron variant of COVID-19 is highly transmissible, it is recommended that faculty and staff wear surgical grade masks. The District is reporting that ALL sites should have these masks on site (picture above) and are currently available. Cloth masks do not provide the same level of protection. If you do not have access to these masks, let TALB know at 562-426-6433.
Vaccine Boosters
Under current guidance, one is not considered "fully vaccinated" unless they have had their booster shots. Those that are boosted appear to have a much higher immune response to the omicron variant. Currently, you can make an appointment with your local pharmacy to get your booster or start the process of getting vaccinated. This disease is not going away. LBUSD and the Long Beach Health Department are looking at the feasibility of a booster clinic at a District location.
Question
If your administration or colleagues are proposing any large group assemblies, it is okay to push back and question, "why, is this safe?" This variant and surely ones to follow are highly transmissible. The genie is out of the bottle, we are at a phase in the pandemic that we are mitigating exposure, not eliminating it. Don't eat lunch with your colleagues. Don't let students eat in your classroom.
Why are we still open?
Great question. Simple answer. We've shutdown twice now. March 13, 2020 – June 12, 2020 & August 31, 2020 – March 22, 2021. While the first closure seemed to tamp down the spread of COVID-19, it never really petered out. We were closed during the last major surge in the winter of 2020-21. COVID-19 still ran rampant throughout our community. We are currently on our 15th variant with Omicron. There are 9 more letters in the Greek alphabet. It is highly probable that at some point in the future we'll have to double or triple up on the Greek alphabet to name the latest variant – "Alpha – Alpha", "Delta – Delta", "Omega – Mu", "Lambda – Lambda – Lambda", etc. We are not going to "close" or "test" our way out of this pandemic. Everyone is exhausted and screaming, "make it stop!". Enough of this COVID-19 already. Unfortunately, COVID-19 is here to stay, unless we take the same measures we did to eradicate polio, measles and small pox, but the body politic is just not there and may never be. Society can't "close" every time there is a new variant. As we passed the first anniversary of the insurrection at our nation's capitol, divisions are still smoldering.
Will there be a tipping point into another closure?
Hard to say. Unfortunately, there is a bit of hysteria amongst the vaccinated and hardly any movement from the unvaccinated. In simple terms, if you are vaccinated, the vast majority will get infected and sick, but will not need hospitalization or intensive care. The explosion of omicron infection is terrifying people who are vaccinated (2 shots of Moderna or Pfizer plus one booster or 1 shot of J&J and 1 booster shot) and have every reason to be assured that when they are infected, they will weather through it. This narrative plays out with hospital systems being overwhelmed with sick or infected people that are not in need of hospitalization or critical care. Be that as it may, given the sheer number of infections and the vast number of people who still remain unvaccinated, it is possible that our health care system could be overwhelmed. If that happens, Los Angeles county or the State could determine that extraordinary measures must be taken in order to protect our health care system from collapse. The good news, here in California, we have a much higher vaccination rate, so even that dark scenario is unlikely to play out. It is only January 8 though and the peak of this latest wave is not expected to crest until the end of January.
California Code 3100 & 3101 – Oath or Affirmation of Allegiance for Disaster Service Workers & Public Employees
It is hereby declared that the protection of the health and safety and preservation of the lives and property of the people of the state from the effects of natural, manmade, or war-caused emergencies which result in conditions of disaster or in extreme peril to life, property, and resources is of paramount state importance requiring the responsible efforts of public and private agencies and individual citizens. In furtherance of the exercise of the police power of the state in protection of its citizens and resources, all public employees are hereby declared to be disaster service workers subject to such disaster service activities as may be assigned to them by their superiors or by law.
When we became public employees we all took a class and an oath to uphold the constitution of California. We can understand if folks don't necessarily feel like we've been cared for or protected. In addition, we could understand that people may not be feeling up to the incredible demands that have been placed on our shoulders. It wasn't like being a public employee was easy before this pandemic hit. Our community, our country needs us more now than ever. Nonetheless, if you are physically or mentally not well enough to report to work use your sick leave. The District is deploying their administrative/credentialed non-classroom staff to fill in the holes that are being created by absences and substitute teacher shortages. If there is one silver lining to this, administrators are having to work in classrooms and seeing first hand what teaching is really like in 2022.
Monday, January 10, 2022
The Governor will present a budget for the 2022-23 fiscal year. Strangely, in this chaotic time of a pandemic, the state coffers are brimming with revenue. TALB is working on rewarding your commitment, hard-work, and sacrifices during these unprecedented times. You deserve it and more. Until next week, hang in there.
---
Exclusionary Pay – An employee who was excluded from work because of a workplace COVID-19 exposure. If you were sent home from work for exposure or told to quarantine from October 1, 2021 going forward, you may now recoup those sick days.
Worker's Compensation Pay – An employee who became ill with COVID-19 and can reasonably attribute their work location as the nexus of exposure and infection from October 1, 2021 going forward, may now recoup those sick days. How to document you were infected at work? A staff general notification of exposure, administrative communique of exposure, parent/student contact notification of COVID-19 positive.
The District is currently updating the process to claim this leave. Check with the website here.
You help make TALB a stronger voice for teachers, counselors, speech language pathologists, psychologists, nurses and librarians.
---
PUBLIC SCHOOL EMPLOYEE LEAVES FOR COVID-19
Exclusion Pay & Cal/OSHA's Emergency Temporary Standards (ETS)
California's Division of Occupational Safety and Health (Cal/OSHA) passed Emergency Temporary Standards (ETS) related to COVID-19 that require employers to continue to provide full pay, benefits, and other employment rights (including job status) for employees who are excluded from the worksite due to a work-related COVID-19 exposure or positive COVID-19 test. Typically, the ETS require employers to exclude and continue to pay employees during the period of quarantine, which could be up to fourteen days.
• Under the ETS, an employer is not required to exclude a fully-vaccinated employee who has a close contact with an infected individual unless the employee has a positive COVID-19 test or the employee develops COVID-19 symptoms. Employers are not required to provide these benefits if the employer can demonstrate that the employee's close contact with an infected individual was not work-related. Employees are not entitled to exclusion pay if they receive pay because they are reassigned to work from home or receive workers' compensation during the exclusion period. An employer may require employees to use employer-provided employee sick leave before providing exclusion pay. The ETS went into effect on November 30, 2020, were readopted on June 17, 2021, and are currently scheduled to expire on January 14, 2022. See Cal/OSHA's COVID-19 Emergency Temporary Standards FAQs on Exclusion Pay.
FMLA & California Family Rights Act (CFRA)
FMLA (federal statute) and CFRA (state statute) provide up to 12 weeks of unpaid leave in a 12-month period for:
• Employee's own serious health condition;
• Family member's serious health condition; or
• Child bonding within first year of birth; adoption, or foster care. To qualify, an employee must have worked at least 12 months and 1,250 hours in the preceding 12 months. COVID-19 should qualify as a "serious health condition" if it results in hospitalization, continuing treatment or supervision by a medical provider, or another serious condition such as pneumonia. Because CFRA does not cover pregnancy as a serious health condition, and California Pregnancy Disability Leave (PDL) separately provides leave for an employee disabled by pregnancy, an eligible employee can take pregnancy-disability leave in addition to a 12-week child bonding leave.
• Note: The CDC identifies pregnancy as a condition that might cause increased risk for severe illness from COVID-19. See CDC website.
See Department of Fair Employment and Housing website.
California Education Code (EC)
EC 44984 – Industrial Accident & Illness Leave
An employee whose workers' compensation claim is approved is entitled to at least 60 days of full salary (when combined with temporary disability payments received for an approved workers' compensation claim). After this leave is exhausted, the employee is entitled to sick leave and differential pay leave.
EC 44978 – Sick Leave
10 days per year for full-time employees for illness or injury; pro-rated if part-time. Accumulates from year to year. Credit for sick leave need not be accrued by the employee prior to taking sick leave so it may be taken at any time during the school year.
EC 44981 – Personal Necessity Leave
In any school year, 7 of the 10 sick days allowed under EC 44978 may be used by an employee, at their election, for personal necessity, which includes the serious illness or death of the employee's immediate family member, an accident involving the employee's person or property, or an accident involving the person or property of an immediate family member.
EC 44977 – Differential Pay Leave / Statutory Leave
Provides up to 5 school months of differential pay due to illness or accident after exhausting all annual and accumulated sick leave. Under EC 44983, employee must be paid at least 50 percent of regular pay after exhausting sick leave.
Other Leaves
The governing board of a public school employer may grant a leave of absence to any employee who is absent because of accident, illness, or quarantine which results from contact with other persons having a contagious disease while performing work. See EC 44964, EC 87765, EC 45199, EC 88199.
Under California Labor Code sections 233 and 246.5 ("kin care" law), an employee may use accrued and available sick leave—up to the amount that would accrue during a six-month period—to attend to the diagnosis, care, or treatment of a covered family member (as defined in Labor Code section 245.5). See
Labor Commissioner's website.
CTA members who are enrolled in CTA-endorsed Voluntary Disability Insurance through The Standard may be entitled to benefits as a result of the member's own disabling condition. The Standard will determine whether the member's receipt of paid sick leave impacts their approved claim based on the specific claim facts and the applicable policy provisions. For more information, contact The Standard at 800-522-0406 or visit CTAMemberBenefits.org/disability. CalSTRS Disability may be available to eligible unit members. See CalSTRS website.
REASONABLE ACCOMMODATIONS FOR DISABLED PERSONS UNDER THE ADA
The federal Americans with Disabilities Act, 42 U.S.C. § 12101 et seq.; 29 C.F.R. §§ 1630 et seq. (ADA) and California Fair Employment and Housing Act, Cal. Gov't Code §§ 12900-12996 (FEHA)
What employers are covered?
ADA prohibits disability discrimination by employers with 15 or more employees.
FEHA prohibits disability discrimination by employers with 5 or more employees.
Several ADA and FEHA rights overlap. FEHA has some stronger state law-based protections.
What disabilities are covered?
A qualifying "disability" can be a mental disability and/or a physical disability that limits one or more major life activities. This can include impairments of major life activities such as caring for oneself, performing manual tasks, seeing, hearing, eating, sleeping, walking, standing, lifting, bending, speaking, breathing, learning, reading, concentrating, thinking, communicating, and working. This can also include impairments of major bodily functions such as functions of the immune system, normal cell growth, digestive, bowel, bladder, neurological, brain, respiratory, circulatory, endocrine, and reproductive functions. Individuals with a qualified disability that would make it medically contraindicated to receive a COVID-19 vaccine may be entitled, as a reasonable accommodation, to a medical exemption from a vaccine requirement, as long as the accommodation does not impose an undue hardship to the employer.
How do unit employees request a reasonable accommodation?
ADA/FEHA requires that employers (including school districts, county offices of education, community colleges, and charter schools) provide "reasonable accommodations" to persons with qualifying disabilities, and the law prohibits retaliation against employees for asserting their rights under ADA/FEHA. An employer is required only to provide reasonable accommodation to employees and applicants with a known disability. If the employer is not aware of an employee's disability, the employee should inform the employer that they have a disability-related limitation and, due to that limitation, they may need a reasonable accommodation to perform their job. A reasonable accommodation request can include a request to telework/perform distance learning. Temporary use of sick leave or other paid or unpaid leave might also be a reasonable accommodation. The employer must engage timely and in good faith in an "interactive process" with the employee to determine if there is a reasonable accommodation that will allow the employee to perform the essential functions of their job. Under California labor law, an exclusive representative has a right to represent a unit employee in the interactive process. The interactive process requires an individualized assessment of the job and the physical or mental limitations of the individual that are directly related to the need for a reasonable accommodation. The interactive process is a collaborative on-going discussion to arrive at a reasonable accommodation that enables the employee to perform the essential assigned duties of their position. There are no formal procedures to an interactive process meeting. Sometimes the interactive process involves multiple meetings and conversations. An employer, however, is not required to provide a reasonable accommodation that imposes an "undue hardship." An accommodation is considered an undue hardship when it requires significant difficulty or expense to adopt and implement. An employer can reject an accommodation that eliminates an essential function of the job.
Do I need medical documentation to request a reasonable accommodation? If so, what should it include?
An employer may request reasonable medical documentation that confirms the existence of a disability and the need for a reasonable accommodation. An employer may not request a specific medical diagnosis under FEHA. Medical documentation, however, should explain any disability-related limitations and possible accommodations that might enable the patient/employee to perform the essential functions of the job. The Department of Fair Employment and Housing (DFEH), the agency tasked with enforcing FEHA, recommends that employers temporarily waive medical documentation requirements if it is impracticable for an employee to reasonably obtain documentation of a COVID-19-related disability. See DFEH reasonable accommodation request form.
Where can I go to learn more about reasonable accommodations? See reasonable accommodation page on DFEH website. See Equal Employment Opportunity Commission Enforcement Guidance: Reasonable Accommodation & Undue Hardship Under the ADA.
WORKERS' COMPENSATION
California Workers' Compensation System, Cal. Lab Code § 3200 et seq.
With few exceptions, the Workers' Compensation system is the sole and exclusive remedy of an employee (or their dependents) against an employer for work-related death or injury. An eligible employee with a work-related injury or illness is entitled to partial wage replacement while they are recovering. A covered employer will also be required to pay for the employee's medical treatment.
Senate Bill 1159 provides that all California employees who work outside their home at the direction of their employer between July 6, 2020 and January 1, 2023 and who test positive for COVID-19 within 14 days of working at their jobsite during an outbreak at their specific workplace are presumed to have contracted any COVID-19-related illness at work for purposes of awarding workers' compensation benefits. An outbreak exists if, within 14 days of an employee testing positive, one of the following occurs at a specific place of employment:
(1) four employees test positive if the employer has 100 employees or fewer;
(2) four percent (4%) of the number of employees who reported to the specific place of employment test positive if the employer has more than 100 employees; or
(3) a specific place of employment is ordered to close by a local public health department, the State Department of Public Health, the Division of Occupational Safety and Health, or a school superintendent due to a risk of COVID infection. See Cal. Labor Code § 3212.88.
If an employee does not qualify for the presumption under SB 1159, they may still be eligible to receive workers' compensation benefits if they contracted COVID-19 at work. The employee will need to meet certain threshold requirements, including proving that their illness arose out of their employment.
If you believe you contracted COVID-19 through work, notify your employer as soon as possible and promptly file a workers' compensation claim form with the employer.
Although the Group Legal Services Program does not cover Workers Compensation claims, TALB maintains a referral list of trusted employee-side Workers Compensation attorneys. TALB Staff can assist you if you wish to be referred to one of these attorneys. See Workers' Compensation Presumption (SB 1159) FAQs, and California Division of Workers Compensation Guide to filing a Workers Compensation claim.
WEAR RED!  The Bargaining Team appreciates your continued support!
TALB Bargaining Team
Corrin Hickey – Bargaining Chair, Lakewood HS
Gerry Morrison – McBride HS
John Kane – Jordan HS
Julie McCall – Nelson MS
John Solomon – MacArthur ES
Kevin Quinn – Los Cerritos ES
Maritza Summers – Mann ES
Sybil Baldwin – CDC
Maria Garcia – HS
---
WEAR RED! Bargaining Team Support
Tuesday, January 18, 2022
Friday, February 4, 2022
Friday, February 25, 2022 (Tentative)
Friday, March 4, 2022
---
Welcome Counselors & Psychologists to TALB!
If you are interested in becoming a member CLICK HERE
Process of membership, rights, benefits, etc.
Zoom Forum on Thursday, December 16 2021 @ 7:00 p.m. To RSVP send an email to vcastillo@talb.org
---
TALB SCHOLARSHIP PROGRAM The benefits of membership!
The TALB Outstanding Student Scholarship Award recognizes outstanding student achievement in the areas of academics, leadership, and civic engagement. Recipients are well-rounded individuals that demonstrate a notable capacity for learning and service to others. Up to two recipients will be awarded $1,000 each and up to ten runners-up will be awarded $200 each.
The TALB Career Advancement Scholarship Award recognizes educators pursuing higher education in order to grow one's capacity as an effective educator. Recipients are current members that demonstrate a notable desire to grow as a more effective educator. One recipient will be awarded $1,000 and up to two runners-up will be awarded $300 each.
Applications, instructions, and information about eligibility are now available at www.talb.org/scholarships. The deadline for each scholarship application is March 25, 2022 by 4:30PM.
---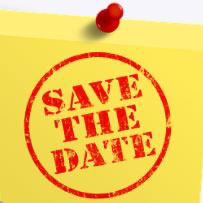 Virtual Site Visit – APE | Wednesday, January 12, 2022 @ 8:00 a.m.
Virtual Site Visit – Emerson E.S. | January 12, 2022 @ 4:00 p.m.
Melinda Ellis – Virtual Estate Planning Seminar | January 12, 2022 @ 5:00 p.m.
RSVP – email Veronica Castillo at vcastillo@talb.org
Virtual Site Visit – Powell K-8 | January 13, 2022 @ 4:00 p.m.
Lakewood Area Virtual Forum  | January 13, 2022 @ 5:00 p.m.
RSVP – email Veronica Castillo at vcastillo@talb.org
Millikan Area Virtual Forum | January 18, 2022 @ 5:00 p.m.
RSVP – email Veronica Castillo at vcastillo@talb.org
LBUSD Board of Education Meeting @ 5:00 p.m. Watch it LIVE!
Virtual Site Visit – Garfield E.S. | January 20, 2022 @ 4:00 p.m.
CTA Conferences & Grants
Issues Conference – January 21-23, 2022, Las Vegas
Application Cut-0ff: November 8, 2021 at Midnight
Equity & Human Rights Conference – March 4-6, 2022, Location TBD
Application Cut-off: January 3, 2022, at Midnight
Good Teaching Conference South – March 18-20, 2022, Garden Grove
Application Cut-off: January 3, 2022 at Midnight
For full details and to apply for a grant, go to www.CTA.org/grants.
---
ANNOUNCEMENT OF TALB GENERAL ELECTIONS
The Teachers Association of Long Beach will be holding its general elections February 22nd, 2022, through March 4th, 2022, for the following offices:
TALB Officers:
Nominations are open to all TALB members.
TALB Board Area Directors:
Cabrillo Elementary Area Director
Jordan Area Secondary Director
Poly Area Secondary Director
Wilson Area Secondary Director
Lakewood Area Elementary Director
Lakewood Area Secondary Director (Filling vacant position until June 6/19/2023.)
Millikan Area Elementary Director
Nominations are open to TALB members who work in each area.
Minority – At – Large Director
Nominations are open to all TALB members who are American Indian/Alaskan Native, Asian/Pacific Islander, African American or Hispanic.
The term for each TALB office is from June 20th, 2022, to June 17th, 2024.
1 CTA State Council Representatives
Nominations are open to all TALB members.
The term for each CTA State Council Representative is 2022 – 2025.
18 Delegates to the NEA Representative Assembly in Dallas, TX.
Nominations are open to all TALB members to serve a single term for 2022.
The term for each NEA Representative is July 2nd – July 6th.
 ***Election declaration forms and guidelines will be available on January 25, 2022.
---
EASE-Y ANSWERS
GET SUPPORT FOR DIFFICULT TIMES
A little known benefit we have as educational employees in Los Angeles County is the Employee Assistance Service for Education program. EASE is a leading regional service that provides district staff and their families with the opportunity to assess and resolve their difficulties with the assistance of a professional counselor through an assessment and brief counseling service. EASE offers high quality, confidential assistance in:
Personal and family problems
Job-related issues
Stress
Substance abuse
Grief, loss and traumatic incidents
Worksite and phone consultations
All calls and consultations with EASE are confidential and will not be reported to the district, your school, or the Association. 
There is no reason to suffer in silence. If you feel you need assistance, please take advantage of this very important benefit by calling (800) 882-1341. A confidential counselor will be available to take your call.  More information is available on-line at 
https://www.lacoe.edu/Home/EASE
---
Trauma Resources
Reorienting to campus life has been challenging for students and staff. The pandemic has left invisible wounds and scars. There are 144 school days left in the 2021-22 school year. Do something for yourself, take care of yourself. We have a long road ahead.

~ Resources ~
Crisis & Trauma Resource Institute Handouts
Behavior Change
Crisis Response Checklist
Cyberstalking/Cyberbullying Safety Tips
Health Habit Log
How To Be An Ally
Mindful Breathing Tips
Myths About Suicide
Suicide Warning Signs
Principles for "Trauma – Informed"
Recognizing Anxiety
Self-Esteem Inventory
Find Your Words
Depression & Suicide Support
Number Story
Resources on adverse childhood experiences (ACES), ideas for support, healing, etc.
Books
Conscious Connections – Maggie Kline
Brain Changing Strategies to Trauma Proof our Schools
Onward: Cultivating Emotional Resilience in Educators by Elena Aguilar
Onward Workbook: Daily Activities to Cultivate Emotional Resilience and Thrive
Trainings 
Kaiser Mental Health Awareness Video
30 minute asynchronous training
Kaiser Mental Health Training Materials
Slide deck, Notice-Engage-Support model, conversation starters, mental health resources
Crisis & Trauma Resource Institute
Free monthly webinar, online training, train-the -trainer, public workshops, etc.
Trevor Project CARE (Connect, Accept, Respond, Empower) Training
An interactive and intensive training that provides adults with an overview of suicide among lesbian, gay, bisexual, transgender, queer & questioning (LGBTQ) youth, and the different environmental stressors that contribute to their heightened risk for suicide.
Cultivating Resilient Communities During a Crisis
Bright Morning is an international education, coaching and consulting firm that exists to bring new learning practices to organizations that aspire to interrupt inequities, build resilient communities, and heal and transform the world. Our work transforms schools into equitable places of learning where every child gets whatever they need, every day, in order to be successful and to thrive. Process matters. The journey is the destination. Therefore, we lead processes of creation and transformation that honor and nurture all of those involved.
Thank You!
Grateful people are happy people and happy people are grateful people. It may sound hackneyed, but there is plenty to celebrate. We ARE pulling through the last throes of the pandemic and it certainly isn't easy out there. Be that as it may, WE appreciate your hard work and tenacity. You may not hear it often enough, but WE LOVE OUR MEMBERS. Thank you for being you!
---
Financial Wellness Series Webinar / RSVP with Veronica Castillo at vcastillo@talb.org 
Estate Planning Basics Webinar | RSVP with Veronica Castillo at vcastillo@talb.org
---
Estate Planning Basics Webinar | RSVP with Veronica Castillo at vcastillo@talb.org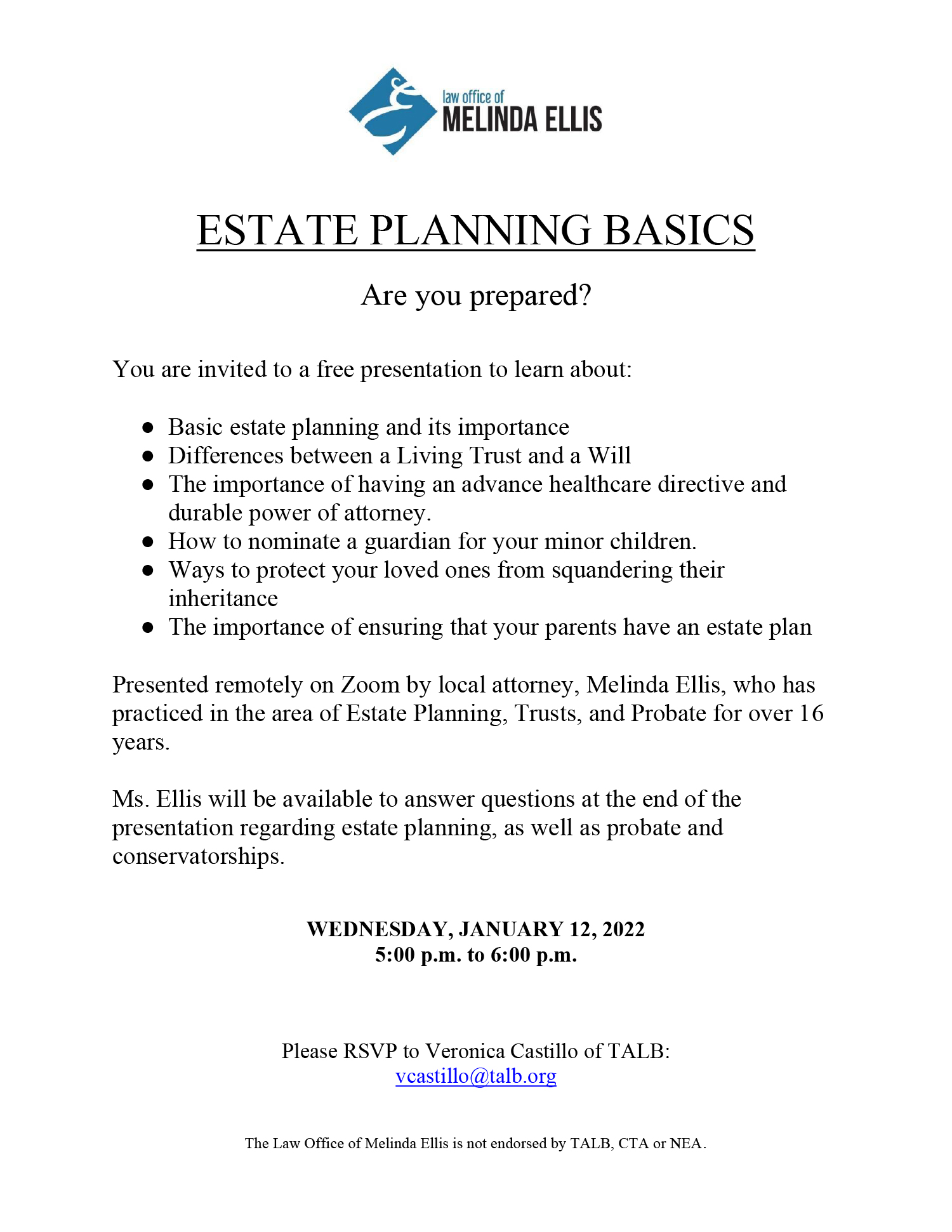 ---
Long Beach Unified School District's YouTube ChannelWatch Live on Wednesday, January 19 @ 5:00 p.m. LBUSD YouTube Channel
---
COVID Safety Protocols Not Being Followed?
If protocols are not being followed, please call the District's COVID hotline at 562-204-6075 and or call the TALB office at 562-426-6433. The California Department of Public Health issued a requirement to School Leaders for universal masking for indoors, K-12 on August 23, 3021. It is a lengthy read, but non-compliance may have ramifications beyond the local employer – excerpt below:
Third, certificated individuals—including school administrators—may be subject to referral to the Commission on Teacher Credentialing for disciplinary action for violating a mandatory legal duty to implement the masking requirement and knowingly exposing students to preventable harm. (See Educ. Code § 44421 [authorizing discipline for "refusal to obey . . . laws regulating the duties of persons serving in the public school system"].)
---
Update your Beneficiaries
The cycle of life. Every year we have a few members pass. Your TALB/CTA/NEA membership provides a survivor's benefit up to $6,000.00. Sadly, every now and again, we have a member pass who did not update their beneficiaries. We can only issue the benefit to the individual(s) listed on your survivor's benefit form. Life comes at you fast. Relationships change. If you have any questions about your survivor's benefit please call the office at 562-426-6433.
---
Federal Funding to Enhance Facilities
What condition is the furniture in your classroom? LBUSD is planning on using Federal Funding to provide facility improvements.Learning and play spaces across the Long Beach Unified School District will soon see enhancements designed to move the needle on student learning and safety. Facilities upgrades are one of several infrastructure improvements outlined in the LBUSD's Learning Acceleration and Support Plan, which aims to elevate the educational experience for all students and offer interventions to learners who need additional support.
Upgrades to areas outside of the classroom start this summer and will be completed before the 2022-23 school year.
Bottle filling stations will be installed at all 85 district schools, providing students access to cool, clean drinking water and the hydration needed for a full day of learning and activities. More than 200 stations will be installed by December. (More Information Here)
---
---