TALB Update: Friday, December 17, 2021
Friday, December 17, 2021
As we close out the year 2021, we want to first acknowledge all of your hard work and persistence. This year has brought a series of challenges, testing our hearts, minds and spirits. You made it! TALB Leadership & Staff want to thank you for your service and commitment to our communities' children and your membership! WE made it together. Please get your rest and relaxation in, January 3, 2022 will be here before you know it. From all of us at TALB, THANK YOU!
---
WEAR RED! On Thursday, The Bargaining Team appreciates your continued support!
TALB Bargaining Team
Corrin Hickey – Bargaining Chair, Lakewood HS
Gerry Morrison – McBride HS
John Kane – Jordan HS
Julie McCall – Nelson MS
John Solomon – MacArthur ES
Kevin Quinn – Los Cerritos ES
Maritza Summers – Mann ES
Sybil Baldwin – CDC
Maria Garcia – HS
---
WEAR RED! Bargaining Team Support
Wednesday, January 5, 2022
Tuesday, January 18, 2022
Friday, February 4, 2022
Friday, February 25, 2022 (Tentative)
Friday, March 4, 2022
---

S.D. teachers competed for $1 bills on a hockey rink. Critics called the game 'terrible' and 'dehumanizing.'
By 
Julian Mark
Today at 6:45 a.m. EST
At a junior hockey game in Sioux Falls, S.D., on Saturday night, $5,000 in one-dollar bills was dumped onto a carpet in the middle of the ice as 10 local teachers readied themselves to shovel up as much of it as they could.
When the competition began, the teachers — all wearing hockey helmets — crawled into the pile of cash, frantically stuffing the bills into their shirts as an arena of spectators hollered and cheered until every dollar was snatched up.
A clip of the event went viral over the weekend and had amassed more than 7.7 million views on Twitter as of early Monday. Critics said the image of teachers on their hands and knees, scrambling for low-denomination bills, was "dehumanizing" and even "dystopian," especially as teachers are paid relatively small salaries in South Dakota and nationwide. Some compared the spectacle to the popular Netflix series "Squid Game," in which the show's characters compete in deadly games to win a giant piggy bank full of cash. (Full Story)
---
An estimated 60% of large employers use workplace monitoring tools, some of which can be used to chill organizing.
by Jo Constantz
Last January, at the height of the pandemic, an elderly housekeeper at a former hotel in Long Beach, California, that was being used to quarantine people with COVID-19 tested positive for the virus and died. That prompted the union that represents hotel workers in Southern California to file a complaint with the state and the National Labor Relations Board alleging that the hotel failed to follow pandemic safety protocols. Hotel workers met regularly to discuss their health, the safety situation and to strategize about how to address their complaints with the company, Holliday's Helping Hands, which had been contracted by Los Angeles County to run the facility.
During a Zoom call set up by union representatives and employees who had organized a worker organizing committee, "We noticed that managers of the company had busted into the meeting — they had crashed our Zoom call," recalls Lorena Lopez, a director of organizing with UNITE HERE Local 11. "Workers started to get very nervous and shut down their cameras so they wouldn't be recognized. I was running the meeting and asked everyone to ID themselves. But the company people refused." During the meeting, a worker on the cleaning crew had volunteered to be the spokesperson for the group. According to Lopez, this worker was confronted by management the next day and pressured to quit. (Full Story)
---
By Mark Ghaly & Linda Darling-Hammond
Dr. Mark Ghaly is Secretary of the California Health and Human Services Agency.
Linda Darling-Hammond is president of the California State Board of Education.
Mental health is now the leading cause of hospitalization of children under 18 in California. This crisis facing youth and their families is staggering.
In addition to the effects of the COVID-19 pandemic, young people face existential threats like climate change, gun violence in schools as well as communities, civil rights crises, and an uncertain educational and economic future.
From 2009 to 2017, depression increased 69% among 16- and 17-year-olds. The suicide rate among 18- to 19-year-olds increased 56% from 2008 to 2017. An estimated 8% to 10% of children under age 5 experience clinically significant and impairing mental health problems.
The stress and social isolation caused by the pandemic have intensified the already existing crisis, particularly for children and youth of color, low-income communities, LGBTQ+ youth and other vulnerable populations.
Last week, the U.S. Surgeon General issued an advisory on the youth mental health crisis. It calls attention to the growing prevalence of mental health challenges nationally and offers multi-sector recommendations to address the challenges. (Full Story)
---
---
Welcome Counselors & Psychologists to TALB!
If you are interested in becoming a member CLICK HERE
Process of membership, rights, benefits, etc.
Zoom Forum on Thursday, December 16 2021 @ 7:00 p.m. To RSVP send an email to vcastillo@talb.org
---
TALB SCHOLARSHIP PROGRAM The benefits of membership!
The TALB Outstanding Student Scholarship Award recognizes outstanding student achievement in the areas of academics, leadership, and civic engagement. Recipients are well-rounded individuals that demonstrate a notable capacity for learning and service to others. Up to two recipients will be awarded $1,000 each and up to ten runners-up will be awarded $200 each.
The TALB Career Advancement Scholarship Award recognizes educators pursuing higher education in order to grow one's capacity as an effective educator. Recipients are current members that demonstrate a notable desire to grow as a more effective educator. One recipient will be awarded $1,000 and up to two runners-up will be awarded $300 each.
The TALB Future Educators Scholarship Award recognizes the importance of new people entering the education profession. Recipients are college students or newly hired teachers that demonstrate a notable capacity for teaching. One recipient will be awarded $1,000 and up to two runners-up will be awarded $200 each.
Applications, instructions, and information about eligibility are now available at www.talb.org/scholarships. The deadline for each scholarship application is March 25, 2022 by 4:30PM.
---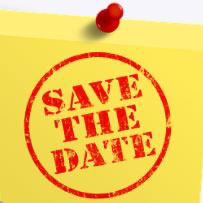 Virtual Site Visit – Washington M.S. | Monday, January 3, 2022 @ 4:00 p.m.
Virtual Site Visit – Los Cerritos E.S. | Tuesday, January 4, 2022 @ 4:00 p.m.
Virtual Site Visit – Killer M.S. | Wednesday, January 5, 2022 @ 4:00 p.m.
Know Your Contract Forum
1/5/2022 5:00-6:00 p.m. To register, email Veronica Castillo at vcastillo@talb.org
Virtual Site Visit –  Longfellow E.S. | Thursday, January 6, 2022 @ 4:00 p.m.
Nurses Virtual Forum | Thursday, January 6, 2022 @ 5:00 p.m.
RSVP – email Veronica Castillo at vcastillo@talb.org
Counselors Virtual Forum | Thursday, January 6, 2022 @5:00
RSVP – email Veronica Castillo at vcastillo@talb.org
Psychologists Virtual Forum | Thursday, January 6, 2022 @ 6:00 p.m.
RSVP – email Veronica Castillo at vcastillo@talb.org
Virtual Site Visit – APE | Wednesday, January 12, 2022 @ 8:00 a.m.
Virtual Site Visit – Emerson E.S. | January 12, 2022 @ 4:00 p.m.
Melinda Ellis – Virtual Estate Planning Seminar | January 12, 2022 @ 5:00 p.m.
RSVP – email Veronica Castillo at vcastillo@talb.org
Lakewood Area Virtual Forum  | January 12, 2022 @ 5:00 p.m.
RSVP – email Veronica Castillo at vcastillo@talb.org
CTA Conferences & Grants
Issues Conference – January 21-23, 2022, Las Vegas
Application Cut-0ff: November 8, 2021 at Midnight
Equity & Human Rights Conference – March 4-6, 2022, Location TBD
Application Cut-off: January 3, 2022, at Midnight
Good Teaching Conference South – March 18-20, 2022, Garden Grove
Application Cut-off: January 3, 2022 at Midnight
For full details and to apply for a grant, go to www.CTA.org/grants.
---
ANNOUNCEMENT OF TALB GENERAL ELECTIONS
The Teachers Association of Long Beach will be holding its general elections February 22nd, 2022, through March 4th, 2022, for the following offices:
TALB Officers:
Nominations are open to all TALB members.
TALB Board Area Directors:
Cabrillo Elementary Area Director
Jordan Area Secondary Director
Poly Area Secondary Director
Wilson Area Secondary Director
Lakewood Area Elementary Director
Lakewood Area Secondary Director (Filling vacant position until June 6/19/2023.)
Millikan Area Elementary Director
Nominations are open to TALB members who work in each area.
Minority – At – Large Director
Nominations are open to all TALB members who are American Indian/Alaskan Native, Asian/Pacific Islander, African American or Hispanic.
The term for each TALB office is from June 20th, 2022, to June 17th, 2024.
1 CTA State Council Representatives
Nominations are open to all TALB members.
The term for each CTA State Council Representative is 2022 – 2025.
18 Delegates to the NEA Representative Assembly in Dallas, TX.
Nominations are open to all TALB members to serve a single term for 2022.
The term for each NEA Representative is July 2nd – July 6th.
 ***Election declaration forms and guidelines will be available on January 25, 2022.
---
EASE-Y ANSWERS
GET SUPPORT FOR DIFFICULT TIMES
A little known benefit we have as educational employees in Los Angeles County is the Employee Assistance Service for Education program. EASE is a leading regional service that provides district staff and their families with the opportunity to assess and resolve their difficulties with the assistance of a professional counselor through an assessment and brief counseling service. EASE offers high quality, confidential assistance in:
Personal and family problems
Job-related issues
Stress
Substance abuse
Grief, loss and traumatic incidents
Worksite and phone consultations
All calls and consultations with EASE are confidential and will not be reported to the district, your school, or the Association. 
There is no reason to suffer in silence. If you feel you need assistance, please take advantage of this very important benefit by calling (800) 882-1341. A confidential counselor will be available to take your call.  More information is available on-line at 
https://www.lacoe.edu/Home/EASE
---
Trauma Resources
Reorienting to campus life has been challenging for students and staff. The pandemic has left invisible wounds and scars. There are 144 school days left in the 2021-22 school year. Do something for yourself, take care of yourself. We have a long road ahead.

~ Resources ~
Crisis & Trauma Resource Institute Handouts
Behavior Change
Crisis Response Checklist
Cyberstalking/Cyberbullying Safety Tips
Health Habit Log
How To Be An Ally
Mindful Breathing Tips
Myths About Suicide
Suicide Warning Signs
Principles for "Trauma – Informed"
Recognizing Anxiety
Self-Esteem Inventory
Find Your Words
Depression & Suicide Support
Number Story
Resources on adverse childhood experiences (ACES), ideas for support, healing, etc.
Books
Conscious Connections – Maggie Kline
Brain Changing Strategies to Trauma Proof our Schools
Onward: Cultivating Emotional Resilience in Educators by Elena Aguilar
Onward Workbook: Daily Activities to Cultivate Emotional Resilience and Thrive
Trainings 
Kaiser Mental Health Awareness Video
30 minute asynchronous training
Kaiser Mental Health Training Materials
Slide deck, Notice-Engage-Support model, conversation starters, mental health resources
Crisis & Trauma Resource Institute
Free monthly webinar, online training, train-the -trainer, public workshops, etc.
Trevor Project CARE (Connect, Accept, Respond, Empower) Training
An interactive and intensive training that provides adults with an overview of suicide among lesbian, gay, bisexual, transgender, queer & questioning (LGBTQ) youth, and the different environmental stressors that contribute to their heightened risk for suicide.
Cultivating Resilient Communities During a Crisis
Bright Morning is an international education, coaching and consulting firm that exists to bring new learning practices to organizations that aspire to interrupt inequities, build resilient communities, and heal and transform the world. Our work transforms schools into equitable places of learning where every child gets whatever they need, every day, in order to be successful and to thrive. Process matters. The journey is the destination. Therefore, we lead processes of creation and transformation that honor and nurture all of those involved.
Thank You!
Grateful people are happy people and happy people are grateful people. It may sound hackneyed, but there is plenty to celebrate. We ARE pulling through the last throes of the pandemic and it certainly isn't easy out there. Be that as it may, WE appreciate your hard work and tenacity. You may not hear it often enough, but WE LOVE OUR MEMBERS. Thank you for being you!
---
Financial Wellness Series Webinar / RSVP with Veronica Castillo at vcastillo@talb.org 
Estate Planning Basics Webinar | RSVP with Veronica Castillo at vcastillo@talb.org
---
Estate Planning Basics Webinar | RSVP with Veronica Castillo at vcastillo@talb.org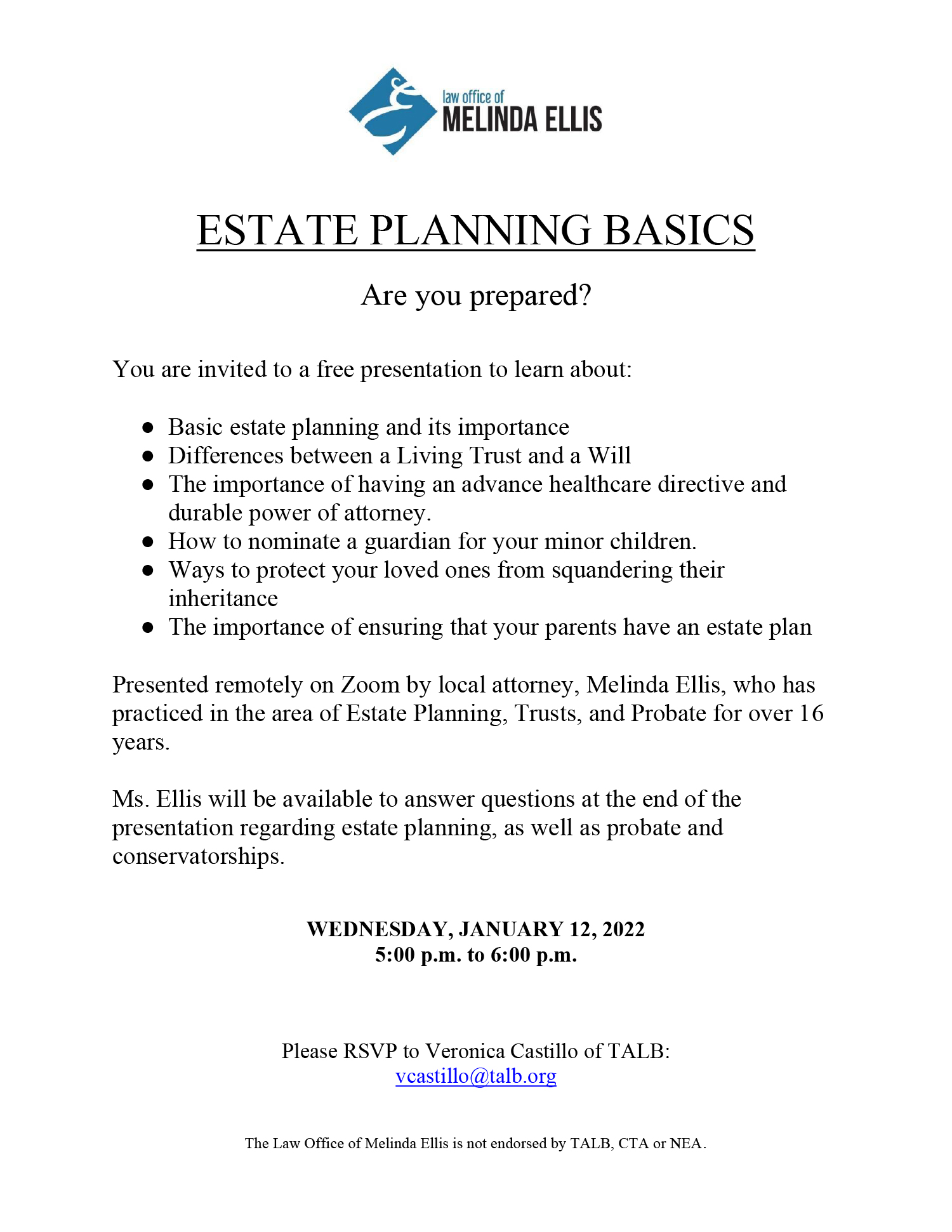 ---
Long Beach Unified School District's YouTube ChannelWatch Live on Wednesday, December 15 @ 5:00 p.m. LBUSD YouTube Channel
---
COVID Safety Protocols Not Being Followed?
If protocols are not being followed, please call the District's COVID hotline at 562-204-6075 and or call the TALB office at 562-426-6433. The California Department of Public Health issued a requirement to School Leaders for universal masking for indoors, K-12 on August 23, 3021. It is a lengthy read, but non-compliance may have ramifications beyond the local employer – excerpt below:
Third, certificated individuals—including school administrators—may be subject to referral to the Commission on Teacher Credentialing for disciplinary action for violating a mandatory legal duty to implement the masking requirement and knowingly exposing students to preventable harm. (See Educ. Code § 44421 [authorizing discipline for "refusal to obey . . . laws regulating the duties of persons serving in the public school system"].)
---
Update your Beneficiaries
The cycle of life. Every year we have a few members pass. Your TALB/CTA/NEA membership provides a survivor's benefit up to $6,000.00. Sadly, every now and again, we have a member pass who did not update their beneficiaries. We can only issue the benefit to the individual(s) listed on your survivor's benefit form. Life comes at you fast. Relationships change. If you have any questions about your survivor's benefit please call the office at 562-426-6433.
---
Federal Funding to Enhance Facilities
What condition is the furniture in your classroom? LBUSD is planning on using Federal Funding to provide facility improvements.Learning and play spaces across the Long Beach Unified School District will soon see enhancements designed to move the needle on student learning and safety. Facilities upgrades are one of several infrastructure improvements outlined in the LBUSD's Learning Acceleration and Support Plan, which aims to elevate the educational experience for all students and offer interventions to learners who need additional support.
Upgrades to areas outside of the classroom start this summer and will be completed before the 2022-23 school year.
Bottle filling stations will be installed at all 85 district schools, providing students access to cool, clean drinking water and the hydration needed for a full day of learning and activities. More than 200 stations will be installed by December. (More Information Here)
---
Public Schools Long Beach Students Deserve
With Long Beach Unified School District set to receive over $460,000,000.00 in State & Federal aid, it is high time we look at the services we provide to our students.
Class Sizes/Ratios
Counselors
Librarians
Nurses
Psychologists
Speech Pathologists
Please start the conversations now, we will need to organize before Executive Staff make all the decisions and allocate all the resources.
---
---