TALB Update: Friday, December 3, 2021
Friday December 3, 2021
WEAR RED! On Thursday, December 9, 2021 
Monday, November 29
The bargaining teams for both LBUSD & TALB met. A significant amount of time was spent discussing the roles of each bargaining team member and reaching a common understanding of "ground rules". The lead negotiator for the District, Steve Rockenbach, walked both teams through the District's sunshined proposals. The lead negotiator for TALB, Corrin Hickey, walked both teams through TALB's sunshined proposals.
Mr. Rockenbach provided an overview of the District's enrollment and trajectory.
The TALB bargaining team made proposals to codify school counselors and psychologists to be recognized in the collective bargaining agreement. When former superintendent Chris Steinhauser announced his retirement in December of 2019, counselors and psychologists started their odyssey to become members of the Teachers Association of Long Beach. It took nearly two years from start to finish. We are excited to have them on board!
Compensation. The District intends to give a financial presentation in early January, which will give us a better picture on how to find a fair and equitable settlement on compensation.
The first day of negotiations is just the start of the dance. However, we have already booked the following dates.
WEAR RED! Bargaining Team Support
Thursday, December 9, 2021
Wednesday, January 5, 2022
Tuesday, January 18, 2022
Friday, February 4, 2022
Friday, February 25, 2022 (Tentative)
Friday, March 4, 2022
---
Tuesday, November 30 
TALB Representative Council Endorses Dr. Juan Benitez for LBUSD School Board 


Dr. Juan Benitez has proven that he has the experience and commitment to be the leader our students need. We are proud to endorse his campaign for LBUSD School Board because we know that he will always be a reliable advocate for our schools. From making sure our classrooms receive the right resources to ensuring the safety of our schools, Dr. Juan Benitez will always be a trusted champion for public education.
---
Thursday, December 2
Megan Kerr, Vice-President, LBUSD will not run for re-election. Instead, Ms. Kerr has announced her bid for the newly drawn Long Beach City Council seat #5. Multiple candidates have expressed interest in LBUSD Board area 1. TALB will hold candidate interviews in January/February. We hope that politicos will be respectful of our endorsement process before lending their own endorsement.

---
While Politics Consume School Board Meetings, a Very Different Crisis Festers
Schools across the country are dealing with an array of urgent challenges this year. In nearly two dozen interviews, school workers described shortages everywhere, from bus drivers to substitute teachers to support staff to milk. Nurses are overwhelmed with the demands of contact tracing from Covid-19 cases and paperwork for hundreds of requested exemptions from a school mask requirement.
Custodians, after more than a year of deep-cleaning classrooms, are now cleaning up broken sinks and disgusting messes after a spate of TikTok challenges, viral dares on social media that led to so much vandalism that nearly all of the bathrooms in some schools had to be closed.
And with the ranks of classroom support staff worryingly thin, everyone talks of an alarming crisis in student mental health, a concern already serious before the disruptions of Covid-19. Behavioral problems have mushroomed, there have been suicides and attempted suicides, and a huge share of students seem to have become disconnected, at a loss when asked to do things as simple as gather into groups.
"We are in triage mode," said Elizabeth Coyne, a family consumer science teacher whose teaching partner went on maternity leave, leaving a vacancy that no appropriately certified substitute showed up to fill. (Full Story)
---
The Omicron variant appears to be spreading over twice as fast as Delta in South Africa, scientists said. How vaccines affect it remains unclear.
Underscoring growing concerns about Omicron, scientists in South Africa said on Friday that the newest coronavirus variant appears to spread more than twice as quickly as Delta, which had been considered the most contagious version of the virus.
Omicron's rapid spread results from a combination of contagiousness and an ability to dodge the body's immune defenses, the researchers said, but the contribution of each factor is not yet certain.
"We're not sure what that mixture is," said Carl Pearson, a mathematical modeler at the London School of Hygiene & Tropical Medicine who led the analysis. "It's possible that it might even be less transmissible than Delta."
Some of these researchers had reported on Thursday that the new variant may partly dodge immunity gained from a previous infection. It's still unclear whether, or to what degree, Omicron may evade protection conferred by the current vaccines.
The new research was posted on Twitter, and has not yet been peer-reviewed nor published in a scientific journal.
The Omicron variant has appeared in nearly two dozen countries. The United States has identified at least 10 cases in six states, and health officials say that community spread of the virus is inevitable. President Biden reiterated on Friday morning that his administration's newest pandemic measures, announced earlier this week, should be sufficient to blunt the spread of Omicron.
The variant was first identified in South Africa on Nov. 23 and has quickly come to account for about three-quarters of new cases in the country. South Africa reported 11,535 new coronavirus cases on Thursday, a 35 percent jump from the day before, and the proportion of positive test results increased to 22.4 percent from 16.5 percent.
"It is actually really striking how quickly it seems to have taken over," said Juliet Pulliam, the director of an epidemiological modeling center at the University of Stellenbosch in South Africa, who led the earlier research on immunity.
Omicron cases in particular are doubling roughly every three days in Gauteng province, home to South Africa's densely populated economic hub and now the epicenter of the country's fourth wave of infections, the researchers said on Friday.
In a mathematical analysis, they estimated the variant's Rt — a measure of how quickly a virus spreads — and compared it to the metric for Delta. They found that Omicron's Rt is nearly 2.5 times higher than that of Delta.
That figure depends not just how contagious the variant may be, but also on its ability to sidestep the body's immune defenses once it reaches a new host. In related research published on Thursday, Dr. Pulliam and her colleagues estimated the new variant's ability to evade immunity by looking at confirmed cases in the country through late November. (Full Story)
---
Welcome Counselors & Psychologists to TALB!
If you are interested in becoming a member CLICK HERE
Process of membership, rights, benefits, etc.
Zoom Forum on Thursday, December 16 2021 @ 7:00 p.m. To RSVP send an email to vcastillo@talb.org
---
TALB SCHOLARSHIP PROGRAM The benefits of membership!
The TALB Outstanding Student Scholarship Award recognizes outstanding student achievement in the areas of academics, leadership, and civic engagement. Recipients are well-rounded individuals that demonstrate a notable capacity for learning and service to others. Up to two recipients will be awarded $1,000 each and up to ten runners-up will be awarded $200 each.
The TALB Career Advancement Scholarship Award recognizes educators pursuing higher education in order to grow one's capacity as an effective educator. Recipients are current members that demonstrate a notable desire to grow as a more effective educator. One recipient will be awarded $1,000 and up to two runners-up will be awarded $300 each.
The TALB Future Educators Scholarship Award recognizes the importance of new people entering the education profession. Recipients are college students or newly hired teachers that demonstrate a notable capacity for teaching. One recipient will be awarded $1,000 and up to two runners-up will be awarded $200 each.
Applications, instructions, and information about eligibility are now available at www.talb.org/scholarships. The deadline for each scholarship application is March 25, 2022 by 4:30PM.
---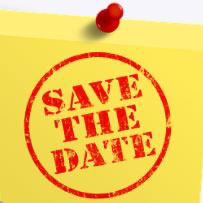 Holiday / New Member Zoom Mixer
12/16/2021 5:00-6:00 p.m. To register, email Veronica Castillo at vcastillo@talb.org
Counselor & Psychologist TALB Membership Symposium
12/16/2021 @ 5:00 p.m.
Know Your Contract Forum
1/5/2022 5:00-6:00 p.m. To register, email Veronica Castillo at vcastillo@talb.org
CTA Conferences & Grants
Issues Conference – January 21-23, 2022, Las Vegas
Application Cut-0ff: November 8, 2021 at Midnight
Equity & Human Rights Conference – March 4-6, 2022, Location TBD
Application Cut-off: January 3, 2022, at Midnight
Good Teaching Conference South – March 18-20, 2022, Garden Grove
Application Cut-off: January 3, 2022 at Midnight
For full details and to apply for a grant, go to www.CTA.org/grants.
---
MOU Update
There is agreement surrounding 2 of the 4 mandated meetings a month, continuing to be virtual (Zoom) until the semester ends, January 27. In your next ILT meeting please discuss which meetings will be in-person or online via Zoom, for the months of November, December and January.
---
ANNOUNCEMENT OF TALB GENERAL ELECTIONS
The Teachers Association of Long Beach will be holding its general elections February 22nd, 2022, through March 4th, 2022, for the following offices:
TALB Officers:
Nominations are open to all TALB members.
TALB Board Area Directors:
Cabrillo Elementary Area Director
Jordan Area Secondary Director
Poly Area Secondary Director
Wilson Area Secondary Director
Lakewood Area Elementary Director
Lakewood Area Secondary Director (Filling vacant position until June 6/19/2023.)
Millikan Area Elementary Director
Nominations are open to TALB members who work in each area.
Minority – At – Large Director
Nominations are open to all TALB members who are American Indian/Alaskan Native, Asian/Pacific Islander, African American or Hispanic.
The term for each TALB office is from June 20th, 2022, to June 17th, 2024.
1 CTA State Council Representatives
Nominations are open to all TALB members.
The term for each CTA State Council Representative is 2022 – 2025.
18 Delegates to the NEA Representative Assembly in Dallas, TX.
Nominations are open to all TALB members to serve a single term for 2022.
The term for each NEA Representative is July 2nd – July 6th.
 ***Election declaration forms and guidelines will be available on January 25, 2022.
---
EASE-Y ANSWERS
GET SUPPORT FOR DIFFICULT TIMES
A little known benefit we have as educational employees in Los Angeles County is the Employee Assistance Service for Education program. EASE is a leading regional service that provides district staff and their families with the opportunity to assess and resolve their difficulties with the assistance of a professional counselor through an assessment and brief counseling service. EASE offers high quality, confidential assistance in:
Personal and family problems
Job-related issues
Stress
Substance abuse
Grief, loss and traumatic incidents
Worksite and phone consultations
All calls and consultations with EASE are confidential and will not be reported to the district, your school, or the Association. 
There is no reason to suffer in silence. If you feel you need assistance, please take advantage of this very important benefit by calling (800) 882-1341. A confidential counselor will be available to take your call.  More information is available on-line at 
https://www.lacoe.edu/Home/EASE
---
Trauma Resources
Reorienting to campus life has been challenging for students and staff. The pandemic has left invisible wounds and scars. There are 144 school days left in the 2021-22 school year. Do something for yourself, take care of yourself. We have a long road ahead.

~ Resources ~
Crisis & Trauma Resource Institute Handouts
Behavior Change
Crisis Response Checklist
Cyberstalking/Cyberbullying Safety Tips
Health Habit Log
How To Be An Ally
Mindful Breathing Tips
Myths About Suicide
Suicide Warning Signs
Principles for "Trauma – Informed"
Recognizing Anxiety
Self-Esteem Inventory
Find Your Words
Depression & Suicide Support
Number Story
Resources on adverse childhood experiences (ACES), ideas for support, healing, etc.
Books
Conscious Connections – Maggie Kline
Brain Changing Strategies to Trauma Proof our Schools
Onward: Cultivating Emotional Resilience in Educators by Elena Aguilar
Onward Workbook: Daily Activities to Cultivate Emotional Resilience and Thrive
Trainings 
Kaiser Mental Health Awareness Video
30 minute asynchronous training
Kaiser Mental Health Training Materials
Slide deck, Notice-Engage-Support model, conversation starters, mental health resources
Crisis & Trauma Resource Institute
Free monthly webinar, online training, train-the -trainer, public workshops, etc.
Trevor Project CARE (Connect, Accept, Respond, Empower) Training
An interactive and intensive training that provides adults with an overview of suicide among lesbian, gay, bisexual, transgender, queer & questioning (LGBTQ) youth, and the different environmental stressors that contribute to their heightened risk for suicide.
Cultivating Resilient Communities During a Crisis
Bright Morning is an international education, coaching and consulting firm that exists to bring new learning practices to organizations that aspire to interrupt inequities, build resilient communities, and heal and transform the world. Our work transforms schools into equitable places of learning where every child gets whatever they need, every day, in order to be successful and to thrive. Process matters. The journey is the destination. Therefore, we lead processes of creation and transformation that honor and nurture all of those involved.
Thank You!
Grateful people are happy people and happy people are grateful people. It may sound hackneyed, but there is plenty to celebrate. We ARE pulling through the last throes of the pandemic and it certainly isn't easy out there. Be that as it may, WE appreciate your hard work and tenacity. You may not hear it often enough, but WE LOVE OUR MEMBERS. Thank you for being you!
---
Financial Wellness Series Webinar / RSVP with Veronica Castillo at vcastillo@talb.org 
Estate Planning Basics Webinar | RSVP with Veronica Castillo at vcastillo@talb.org
---
Estate Planning Basics Webinar | RSVP with Veronica Castillo at vcastillo@talb.org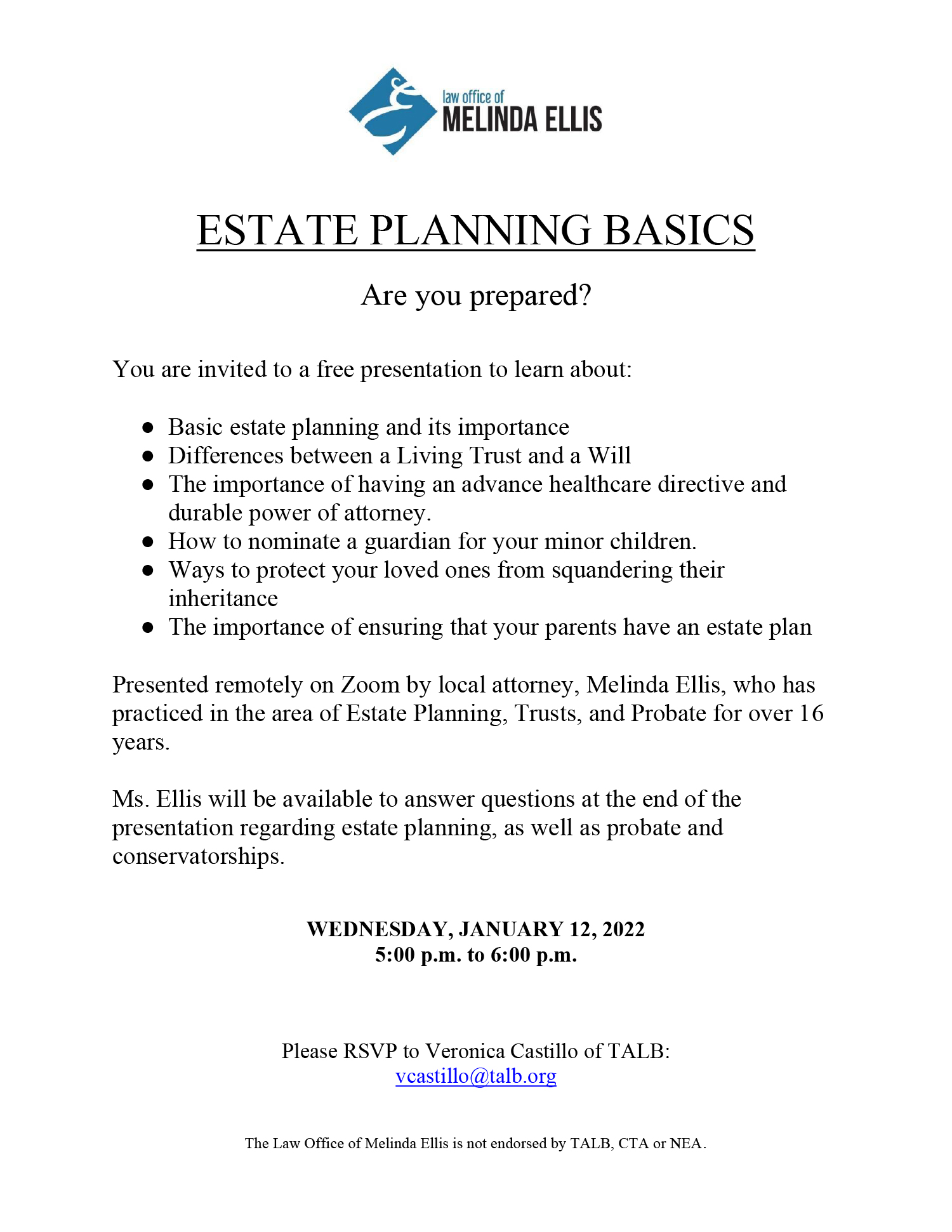 ---
Bargaining 2021-22
TALB Bargaining Team
Corrin Hickey – Bargaining Chair, Lakewood HS
Gerry Morrison – McBride HS
John Kane – Jordan HS
Julie McCall – Nelson MS
John Solomon – MacArthur ES
Kevin Quinn – Los Cerritos ES
Maritza Summers – Mann ES
Sybil Baldwin – CDC
Maria Garcia – HS
Long Beach Unified School District's YouTube ChannelWatch Live on Wednesday, December 15 @ 5:00 p.m. LBUSD YouTube Channel
---
COVID Safety Protocols Not Being Followed?
If protocols are not being followed, please call the District's COVID hotline at 562-204-6075 and or call the TALB office at 562-426-6433. The California Department of Public Health issued a requirement to School Leaders for universal masking for indoors, K-12 on August 23, 3021. It is a lengthy read, but non-compliance may have ramifications beyond the local employer – excerpt below:
Third, certificated individuals—including school administrators—may be subject to referral to the Commission on Teacher Credentialing for disciplinary action for violating a mandatory legal duty to implement the masking requirement and knowingly exposing students to preventable harm. (See Educ. Code § 44421 [authorizing discipline for "refusal to obey . . . laws regulating the duties of persons serving in the public school system"].)
---
Update your Beneficiaries
The cycle of life. Every year we have a few members pass. Your TALB/CTA/NEA membership provides a survivor's benefit up to $6,000.00. Sadly, every now and again, we have a member pass who did not update their beneficiaries. We can only issue the benefit to the individual(s) listed on your survivor's benefit form. Life comes at you fast. Relationships change. If you have any questions about your survivor's benefit please call the office at 562-426-6433.
---
Federal Funding to Enhance Facilities
What condition is the furniture in your classroom? LBUSD is planning on using Federal Funding to provide facility improvements.Learning and play spaces across the Long Beach Unified School District will soon see enhancements designed to move the needle on student learning and safety. Facilities upgrades are one of several infrastructure improvements outlined in the LBUSD's Learning Acceleration and Support Plan, which aims to elevate the educational experience for all students and offer interventions to learners who need additional support.
Upgrades to areas outside of the classroom start this summer and will be completed before the 2022-23 school year.
Bottle filling stations will be installed at all 85 district schools, providing students access to cool, clean drinking water and the hydration needed for a full day of learning and activities. More than 200 stations will be installed by December. (More Information Here)
---
Public Schools Long Beach Students Deserve
With Long Beach Unified School District set to receive over $460,000,000.00 in State & Federal aid, it is high time we look at the services we provide to our students.
Class Sizes/Ratios
Counselors
Librarians
Nurses
Psychologists
Speech Pathologists
Please start the conversations now, we will need to organize before Executive Staff make all the decisions and allocate all the resources.
---
---