TALB Update: Friday, November 12, 2021
Friday November 12, 2021
In so many ways we are ALL connected to the Veterans in this this country. Sure, there will be plenty of horn-tossin' about whether a conflict was justified or even necessary, but at the end of the day our Veterans followed orders and deployed. Some of our members are Veterans, some of our spouses are Veterans, and some of our children are Veterans. We honor them because they honor US. No matter what your tribe, we are ALL Americans. Remembering those that served and continue to serve our nation. "One country".
---
Welcome Counselors & Psychologists to TALB!
If you are interested in becoming a member CLICK HERE
Process of membership, rights, benefits, etc.
Zoom Forum on Thursday, November 18, 2021 @ 7:00 p.m. To RSVP send an email to vcastillo@talb.org
---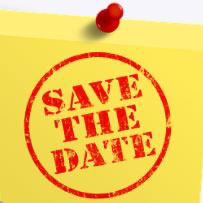 CDC/Head Start Rep Council
11/18 @ 6:00 pm
Counselor & Psychologist TALB Membership Symposium
11/18/2021 @ 7:00 p.m.
Thanksgiving Break!
11/22-11/26
Evaluation Forum
12/2/2021 4:00-5:00 p.m. To register, email Veronica Castillo at vcastillo@talb.org
Holiday / New Member Zoom Mixer
12/16/2021 5:00-6:00 p.m. To register, email Veronica Castillo at vcastillo@talb.org
Know Your Contract Forum
1/5/2022 5:00-6:00 p.m. To register, email Veronica Castillo at vcastillo@talb.org
CTA Conferences & Grants
Issues Conference – January 21-23, 2022, Las Vegas
Application Cut-0ff: November 8, 2021 at Midnight
Equity & Human Rights Conference – March 4-6, 2022, Location TBD
Application Cut-off: January 3, 2022, at Midnight
Good Teaching Conference South – March 18-20, 2022, Garden Grove
Application Cut-off: January 3, 2022 at Midnight
For full details and to apply for a grant, go to www.CTA.org/grants.
---
---
Faced with soaring Ds and Fs, schools are ditching the old way of grading
BY PALOMA ESQUIVELSTAFF WRITER
NOV. 8, 2021 5 AM PT
A few years ago, high school teacher Joshua Moreno got fed up with his grading system, which had become a points game.
Some students accumulated so many points early on that by the end of the term they knew they didn't need to do more work and could still get an A. Others — often those who had to work or care for family members after school — would fail to turn in their homework and fall so far behind that they would just stop trying.
"It was literally inequitable," he said. "As a teacher you get frustrated because what you signed up for was for students to learn. And it just ended up being a conversation about points all the time."
These days, the Alhambra High School English teacher has done away with points entirely. He no longer gives students homework and gives them multiple opportunities to improve essays and classwork. The goal is to base grades on what students are learning, and remove behavior, deadlines and how much work they do from the equation.
The changes Moreno embraced are part of a growing trend in which educators are moving away from traditional point-driven grading systems, aiming to close large academic gaps among racial, ethnic and economic groups. The trend was accelerated by the pandemic and school closures that caused troubling increases in Ds and Fs across the country and by calls to examine the role of institutionalized racism in schools in the aftermath of the murder of George Floyd by a police officer.
Los Angeles and San Diego Unified — the state's two largest school districts, with some 660,000 students combined — have recently directed teachers to base academic grades on whether students have learned what was expected of them during a course — and not penalize them for behavior, work habits and missed deadlines. The policies encourage teachers to give students opportunities to revise essays or retake tests to show that they have met learning goals, rather than enforcing hard deadlines.
"It's teaching students that failure is a part of learning. We fall. We get back up. We learn from the feedback that we get," said Alison Yoshimoto-Towery, L.A. Unified's chief academic officer.
Traditional grading has often been used to "justify and to provide unequal educational opportunities based on a student's race or class," said a letter sent by Yoshimoto-Towery and Pedro A. Garcia, senior executive director of the division of instruction, to principals last month. (Full Story)
---
COMIC: If history is a guide, schools will start requiring COVID vaccines
ANYA KAMENETZ & LA JOHNSON

The first time kids had to get a vaccine to go to school was more than 200 years ago. The disease? Smallpox.
For the past four decades, all 50 U.S. states have required that parents, if they want to enroll their children in any school, public or private, must vaccinate them against contagious diseases like polio and measles. The reason is simple: High rates of vaccination dramatically cut deaths and have all but eliminated some diseases.
But as long as there have been vaccines, there have been people who oppose them, formerly known as "anti-vaccinationists." They have brought many legal challenges over the years, but the U.S. Supreme Court ruled on the constitutionality of school vaccine mandates nearly a century ago, and that has pretty much been upheld to this day.
That said, there's also a strong tradition of granting exemptions to vaccine requirements based on religious and philosophical beliefs. There has also, at times, been lax enforcement and an unwillingness to punish students by keeping them out of school.
---
Texas research: Unvaxxed 20 times more likely to die from COVID
Unvaccinated people are 20 times more likely to die from COVID-19 than fully vaccinated people, per new state research.
Driving the news: To determine the effects of COVID-19 vaccination in Texas, researchers at the Department of State Health Services analyzed data from electronic lab reports, death certificates and the state immunization registry.
The analysis included a period from Jan. 15 to Oct. 1, 2021 with a focus on the four weeks from Sept. 4 to Oct. 1, which allowed researchers to measure the effect of COVID-19 vaccination as the more contagious Delta variant surged across Texas.
What they found: Besides the dizzying difference in death rates, unvaccinated people are 13 times more likely to become infected with COVID-19 than fully vaccinated people.
Vaccination had a strong protective effect on infections and deaths among people of all ages.
State of play: Despite more than 10 days of lower hospital admissions, Austin Public Health officials said Friday they will remain in Stage 3 COVID risk-based guidelines ahead of the holidays.
"I know we're tired," Austin-Travis County Health Authority Desmar Walkes said. "We've been in this for two years. We've lost friends; we've lost family. As the virus continues to struggle to survive, we have to continue to get smarter, make sure that we're using every piece of data that is at our disposal, make sure that we're giving the community the best information possible." (Full Story)
---
Bargaining Support
WEAR RED! On Monday, November 29, 2021
MOU Update
There is agreement surrounding 2 of the 4 mandated meetings a month, continuing to be virtual (Zoom) until the semester ends, January 27. In your next ILT meeting please discuss which meetings will be in-person or online via Zoom, for the months of November, December and January.
---
MOU Update
There is agreement surrounding 2 of the 4 mandated meetings a month, continuing to be virtual (Zoom) until the semester ends, January 27. In your next ILT meeting please discuss which meetings will be in-person or online via Zoom, for the months of November, December and January.
---
EASE-Y ANSWERS
GET SUPPORT FOR DIFFICULT TIMES
A little known benefit we have as educational employees in Los Angeles County is the Employee Assistance Service for Education program. EASE is a leading regional service that provides district staff and their families with the opportunity to assess and resolve their difficulties with the assistance of a professional counselor through an assessment and brief counseling service. EASE offers high quality, confidential assistance in:
Personal and family problems
Job-related issues
Stress
Substance abuse
Grief, loss and traumatic incidents
Worksite and phone consultations
All calls and consultations with EASE are confidential and will not be reported to the district, your school, or the Association. 
There is no reason to suffer in silence. If you feel you need assistance, please take advantage of this very important benefit by calling (800) 882-1341. A confidential counselor will be available to take your call.  More information is available on-line at 
https://www.lacoe.edu/Home/EASE
---
Trauma Resources
Reorienting to campus life has been challenging for students and staff. The pandemic has left invisible wounds and scars. There are 144 school days left in the 2021-22 school year. Do something for yourself, take care of yourself. We have a long road ahead.

~ Resources ~
Crisis & Trauma Resource Institute Handouts
Behavior Change
Crisis Response Checklist
Cyberstalking/Cyberbullying Safety Tips
Health Habit Log
How To Be An Ally
Mindful Breathing Tips
Myths About Suicide
Suicide Warning Signs
Principles for "Trauma – Informed"
Recognizing Anxiety
Self-Esteem Inventory
Find Your Words
Depression & Suicide Support
Number Story
Resources on adverse childhood experiences (ACES), ideas for support, healing, etc.
Books
Conscious Connections – Maggie Kline
Brain Changing Strategies to Trauma Proof our Schools
Onward: Cultivating Emotional Resilience in Educators by Elena Aguilar
Onward Workbook: Daily Activities to Cultivate Emotional Resilience and Thrive
Trainings 
Kaiser Mental Health Awareness Video
30 minute asynchronous training
Kaiser Mental Health Training Materials
Slide deck, Notice-Engage-Support model, conversation starters, mental health resources
Crisis & Trauma Resource Institute
Free monthly webinar, online training, train-the -trainer, public workshops, etc.
Trevor Project CARE (Connect, Accept, Respond, Empower) Training
An interactive and intensive training that provides adults with an overview of suicide among lesbian, gay, bisexual, transgender, queer & questioning (LGBTQ) youth, and the different environmental stressors that contribute to their heightened risk for suicide.
Cultivating Resilient Communities During a Crisis
Bright Morning is an international education, coaching and consulting firm that exists to bring new learning practices to organizations that aspire to interrupt inequities, build resilient communities, and heal and transform the world. Our work transforms schools into equitable places of learning where every child gets whatever they need, every day, in order to be successful and to thrive. Process matters. The journey is the destination. Therefore, we lead processes of creation and transformation that honor and nurture all of those involved.
Thank You!
Grateful people are happy people and happy people are grateful people. It may sound hackneyed, but there is plenty to celebrate. We ARE pulling through the last throes of the pandemic and it certainly isn't easy out there. Be that as it may, WE appreciate your hard work and tenacity. You may not hear it often enough, but WE LOVE OUR MEMBERS. Thank you for being you!
---
Financial Wellness Series Webinar / RSVP with Veronica Castillo at vcastillo@talb.org 
Estate Planning Basics Webinar | RSVP with Veronica Castillo at vcastillo@talb.org
---
Estate Planning Basics Webinar | RSVP with Veronica Castillo at vcastillo@talb.org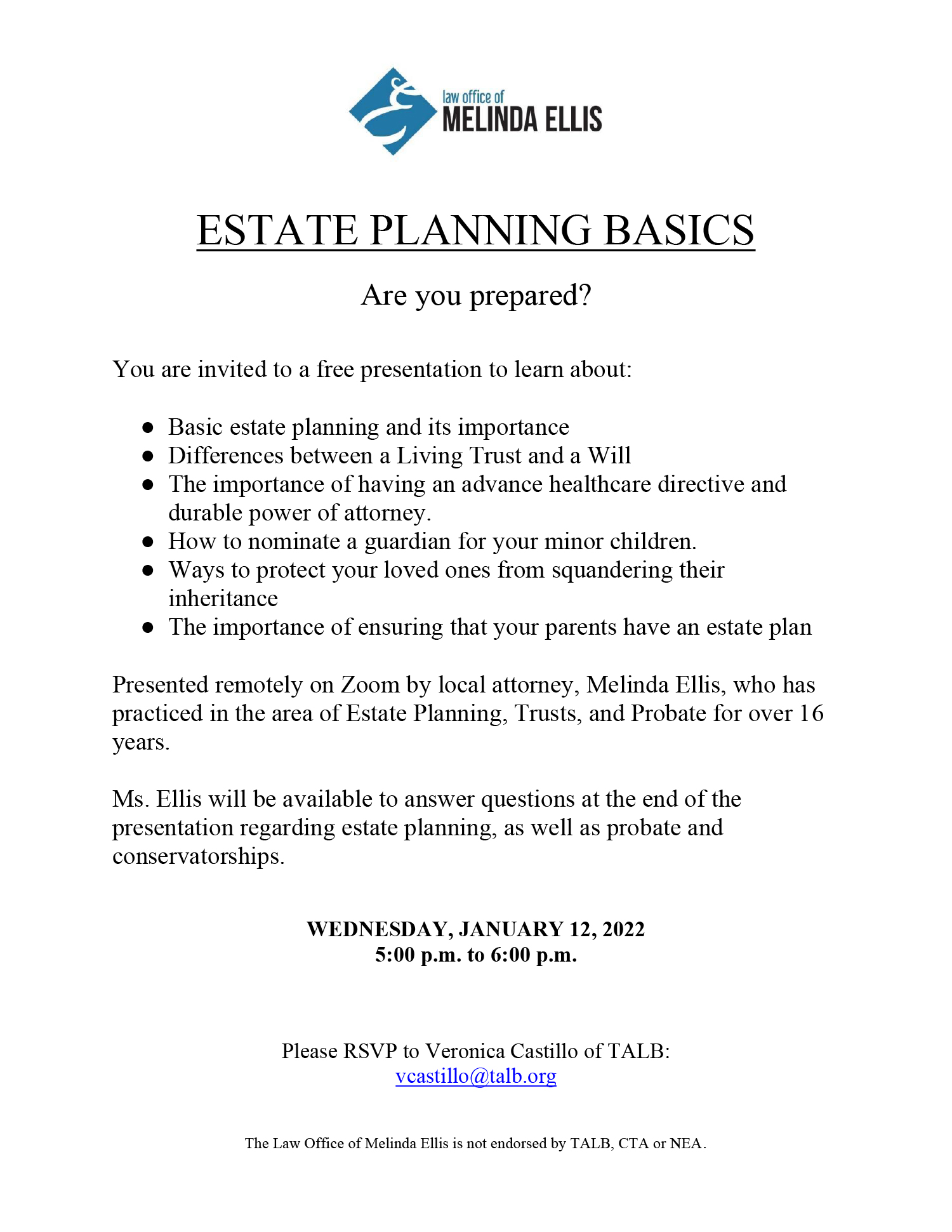 ---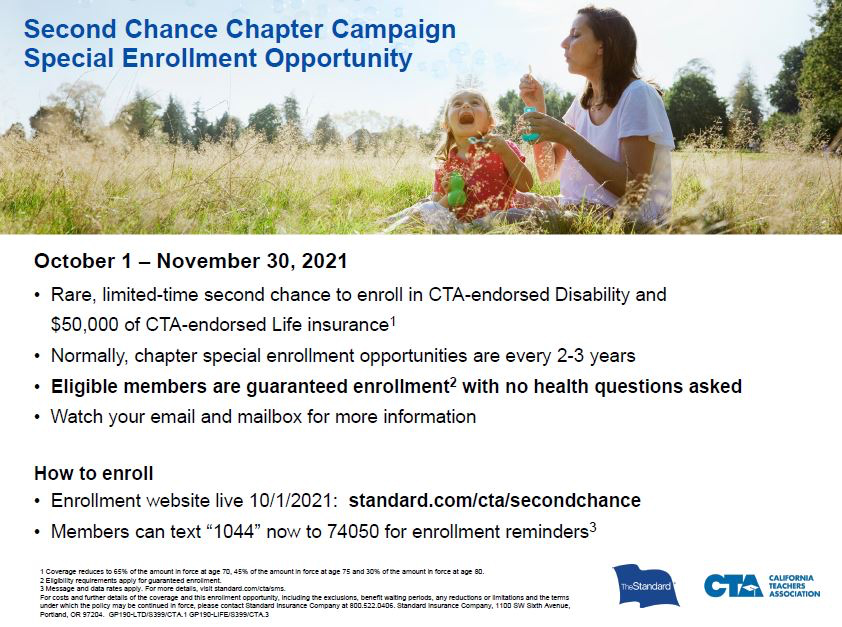 ---
Bargaining 2021-22
TALB Bargaining Team
Corrin Hickey – Bargaining Chair, Lakewood HS
Gerry Morrison – McBride HS
John Kane – Jordan HS
Julie McCall – Nelson MS
John Solomon – MacArthur ES
Kevin Quinn – Los Cerritos ES
Maritza Summers – Mann ES
Sybil Baldwin – CDC
Maria Garcia – HS
This week's ask…WEAR RED! On Monday, November 29, 2021 Bargaining Team Support

Long Beach Unified School District's YouTube ChannelWatch Live on Wednesday, October 6 @ 5:00 p.m. LBUSD YouTube Channel
---
---
COVID Safety Protocols Not Being Followed?
If protocols are not being followed, please call the District's COVID hotline at 562-204-6075 and or call the TALB office at 562-426-6433. The California Department of Public Health issued a requirement to School Leaders for universal masking for indoors, K-12 on August 23, 3021. It is a lengthy read, but non-compliance may have ramifications beyond the local employer – excerpt below:
Third, certificated individuals—including school administrators—may be subject to referral to the Commission on Teacher Credentialing for disciplinary action for violating a mandatory legal duty to implement the masking requirement and knowingly exposing students to preventable harm. (See Educ. Code § 44421 [authorizing discipline for "refusal to obey . . . laws regulating the duties of persons serving in the public school system"].)
---
Update your Beneficiaries
The cycle of life. Every year we have a few members pass. Your TALB/CTA/NEA membership provides a survivor's benefit up to $6,000.00. Sadly, every now and again, we have a member pass who did not update their beneficiaries. We can only issue the benefit to the individual(s) listed on your survivor's benefit form. Life comes at you fast. Relationships change. If you have any questions about your survivor's benefit please call the office at 562-426-6433.
---
Federal Funding to Enhance Facilities
What condition is the furniture in your classroom? LBUSD is planning on using Federal Funding to provide facility improvements.Learning and play spaces across the Long Beach Unified School District will soon see enhancements designed to move the needle on student learning and safety. Facilities upgrades are one of several infrastructure improvements outlined in the LBUSD's Learning Acceleration and Support Plan, which aims to elevate the educational experience for all students and offer interventions to learners who need additional support.
Upgrades to areas outside of the classroom start this summer and will be completed before the 2022-23 school year.
Bottle filling stations will be installed at all 85 district schools, providing students access to cool, clean drinking water and the hydration needed for a full day of learning and activities. More than 200 stations will be installed by December. (More Information Here)
---
Public Schools Long Beach Students Deserve
With Long Beach Unified School District set to receive over $460,000,000.00 in State & Federal aid, it is high time we look at the services we provide to our students.
Class Sizes/Ratios
Counselors
Librarians
Nurses
Psychologists
Speech Pathologists
Please start the conversations now, we will need to organize before Executive Staff make all the decisions and allocate all the resources.
---
---