TALB Update: Friday October 8, 2021
Friday, October 9, 2021
Moving into the 5th week of school, the needs of our students are patently clear. TALB leadership and staff have been fielding calls and emails with requests for help/support from our members, students, parents and community members. Last Friday, October 1, we were to hold a domestic violence awareness vigil in partnership with the Women's Shelter of Long Beach. Unfortunately, miscommunication and staffing shortages led to the cancellation of the event. It really hit home, if the Women's Shelter of Long Beach has a staffing shortage, who's taking care of our most vulnerable women? Parents of students in the Long Beach Unified School District received a robocall seeking workers for the nutrition services department. Are students going hungry because we don't have enough staff? This is certainly an inflection point in our community. Emerging from a pandemic of isolation and social media echo chambers, the needs of our students, indeed our young people in the community, has been laid bare. A visceral desire to express grievances, some held over before the start of the pandemic, has spilled onto our campuses. Civility, decency, and respect have fallen to the way side, leading some to act out in all sorts of foolishness.
It is high time we have a long conversation surrounding school safety. What does "school safety" mean in the 21st century? Allocation of resources should be included in that conversation. Students should have an opportunity to express their frustrations and struggles in ways that deescalate and are non-violent. All stakeholders would be engaged to weigh in on a plan to be implemented districtwide. An obvious solution would be increased access to mental health. While the stigma of seeking mental health services have diminished, "mental health" should not be seen as a resource for those who "need" it. The adage of "eating right and exercising" should include mental health. You don't need to be sick to talk to someone. In fact, we would argue that in order to stay mentally fit you need to exercise and rest your brain. We all need to do for ourselves and each other during this tumultuous time of continuous "refresh" and over-stimulation.
On the topic of funding for our schools it is important to understand where we rank in terms of per pupil funding (how much money we invest in each student per school year). Even though California is the most populous state in the union, we are nowhere near the top 5 in per pupil funding among the States. More recent data will be skewed with the massive infusion of "one-time" money. In two years or less, this "one-time" money will have been spent. Last November, we had a chance to make an investment in our children and our schools with Proposition 15. A simple tweak to corporate property taxes, that would have affected large corporations like Disney and Chevron, could have provided billions of dollars for schools on an ongoing basis. We have high expectations for civil services, but don't want to pay for them. The same "know-nothings" that fell for Proposition 13 back in the 70's fell for the false narrative on Proposition 15. Our children are in great need, we should be unabashed in our investment in them with "real and sustainable" resources, it is a moral imperative.
Acknowledgement
A school site's morale can make all the difference. Are you feeling like it would be nice to be acknowledged? Have you been working hard and feel like it would be nice to just hear a "Thank you"?
Thank you. Thank you. To all of our members who are working so hard right now. It takes a special kind of person to take on the challenges of working in our public schools. We give our ALL, each and every day, to take care of our future generations. If there is someone on campus that you can call out and thank, please don't hesitate. We all need to feel appreciated. We all need to be acknowledged for our tireless efforts to care for our communities' children in these challenging times. Walk over to your colleague and just let them know you care and appreciate them. In solidarity, have a wonderful weekend.
---
Social Media ALERT
There are reports of nefarious characters rummaging through the internet looking for public employees' (Public School Employees) social media accounts. For ALL of your social media accounts, please check your privacy settings.
Facebook
Facebook's Privacy Checkup guides you through some of your privacy and security settings. You'll walk through a few quick steps to make sure only the people you want to see your stuff can see it. You can review who you're posting to, which apps you're using, and the privacy of key pieces of information on your profile.
Who can see what you share.
How to keep your account secure.
How people can find you on Facebook.
Your data settings on Facebook.
Your ad preferences on Facebook.
Twitter
Getting to know and controlling your Twitter privacy settings is an important part of helping protect your information. Here are some tip containing steps you can take to secure your account. When you sign up for Twitter, you can choose to keep your Tweets public or protect your Tweets.
Public Tweets (the default setting): Are visible to anyone, whether or not they have a Twitter account.
Protected Tweets: Only visible to your Twitter followers. Please keep in mind, your followers may still capture images of your Tweets and share them.
Steps to protect your tweets:
Open the Twitter app on your mobile phone
Tap your profile picture
Go to settings and privacy
Go to privacy and safety
Switch on "Protect your Tweets" (green is on)
Use a strong password that you don't reuse on other websites.
Require email and phone number to request a reset password link or code.
Be cautious of suspicious links and always make sure you're on twitter.com before you enter your login information.
Never give your username and password out to third parties, especially those promising to get you followers, make you money, or verify you.
Make sure your computer software, including your browser, is up-to-date with the most recent upgrades and anti-virus software.
Check to see if your account has been compromised.
Instagram Privacy
By default, your Instagram account is public and you can choose to make your account private at any time.

Public: Your profile and posts can be seen by anyone, on or off Instagram, even if they don't have an Instagram account.
Private: Only the followers you approve can see what you share, including your photos or videos on hashtag and location pages, and your followers and following lists.
Steps to set photos and videos to private:
Tap  or your profile picture in the bottom right to go to your profile.
Tap  in the top right, then tap Settings.
Tap Privacy.
Tap next to Private Account to make your account private.
Pick a strong password. Use a combination of at least six numbers, letters and punctuation marks (like ! and &). It should be different from other passwords you use elsewhere on the internet.
Change your password regularly, especially if you see a message from Instagram asking you to do so. During automated security checks, Instagram sometimes recovers login information that was stolen from other sites. If Instagram detects that your password may have been stolen, changing your password on Instagram and other sites helps to keep your account secure and prevent you from being hacked in the future.
Never give your password to someone you don't know and trust.
Turn on two-factor authentication for additional account security.
Make sure your email account is secure. Anyone who can read your email can probably also access your Instagram account. Change the passwords for all of your email accounts and make sure that no two are the same.
Log out of Instagram when you use a computer or phone you share with other people. Don't check the "Remember Me" box when logging in from a public computer, as this will keep you logged in even after you close the browser window.
Think before you authorize any third-party app.
---
Estate Planning Basics Webinar | RSVP with Veronica Castillo at vcastillo@talb.org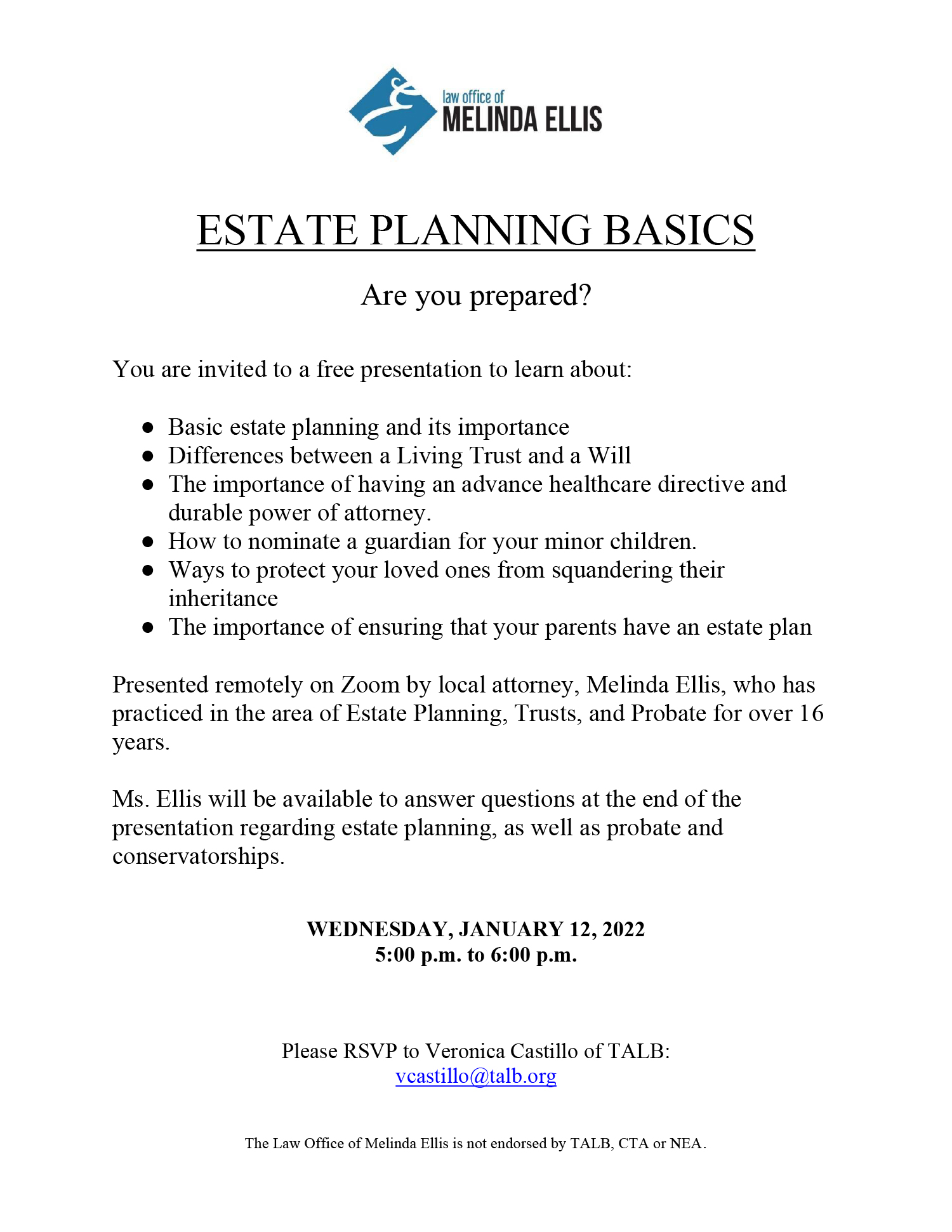 ---
Did you get your booster?
More recently, on September 24, the FDA, CDC and state of California approved a booster dose of the Pfizer COVID-19 vaccine for all people aged 65 years and older and for people between 18 and 64 who have a condition that puts them at higher risk of severe illness from COVID-19 or those that have an increased exposure risk due to their job (healthcare worker, teachers, etc.). This booster dose was only approved for people who were previously vaccinated with the two-dose Pfizer series at least 6 months earlier.
MemorialCare is supporting this effort by offering the Pfizer boosters noted above and will be making clinic spots available on a first-come, first-serve basis. We are happy to help prior Pfizer recipients get scheduled with us. Slots are available at the below MemorialCare Medical Group Clinics via MyChart or on the State's MyTurn site in many locations across Southern California.
Clinic Locations:
Anaheim – 100 S. Anaheim Blvd, Suite 101, Anaheim, CA 92805
Costa Mesa – 722 Baker Street, Costa Mesa, CA 92626
Santa Ana – 1212 W. 17th Street, Santa Ana, CA 92706
HB Beach – 17762 Beach Boulevard, Huntington Beach, CA 92647
FV Brookhurst – 18035 Brookhurst Street, Suite 2100, Fountain Valley, CA 92708
Irvine Barranca – 4050 Barranca Parkway, Suite 200, Irvine, CA 92604
Los Altos – 2110 N Bellflower Blvd, Long Beach, CA 90815
Douglas Park – 3828 Schaufele Avenue, Suite 200, Long Beach, CA 90808
LB MFM-residency program – 450 East Spring Street, Suite 1, Long Beach, CA 90806
Torrance – 22719 Hawthorne Boulevard, Torrance, CA 90505
San Juan Capistrano – 31001 Rancho Viejo Road, Suite 200, San Juan Capistrano, CA 92675
Rancho Mission Viejo – 30492 Gateway Place, Rancho Mission Viejo, CA 92694
Please note that, if your first two doses of vaccine were Moderna, the only approved reason for a third dose is if you are immunocompromised (see first paragraph above).
If you received the J&J vaccine, additional doses have not been recommended or approved, either for a second dose of J&J or for a "booster" dose of either Moderna or Pfizer. MemorialCare commits to keeping you informed should things change and is proud to be a trusted resource for information on COVID-19 and any other healthcare issues.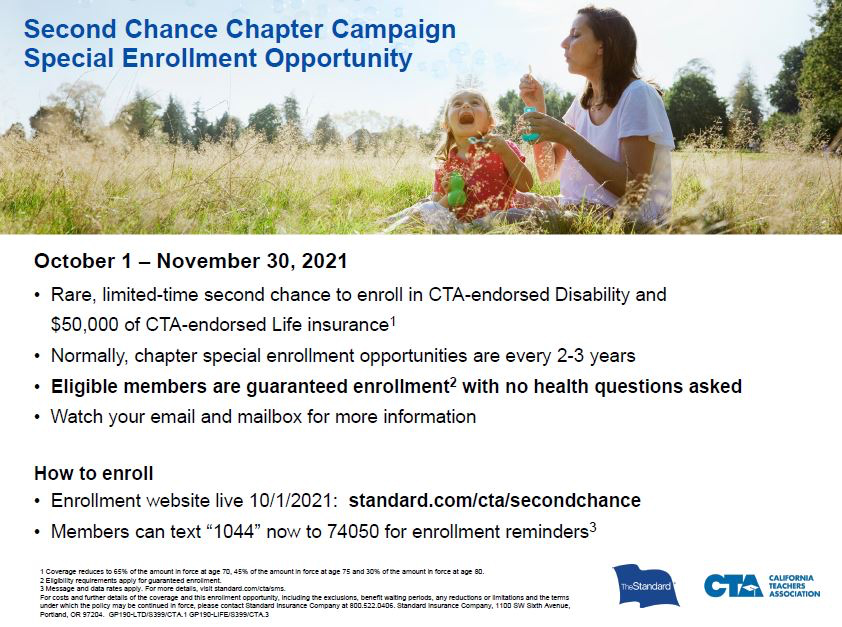 ---
Bargaining 2021-22
Today, the TALB Bargaining team drafted proposals for the TALB Executive Board to review. If approved, the proposals will be brought to the TALB Representative Council on October 26. Once the Rep. Council approves, the proposals will be sent to the superintendent of schools, Dr. Jill Baker. This is referred to as "sun-shining". The proposals will then be placed in an upcoming Board of Education agenda for review. Since the proposals are placed in the public domain, they generally are worded with broad brush strokes. We'll keep you updated as the process continues.
Corrin Hickey – Bargaining Chair, Lakewood HS
Gerry Morrison – McBride HS
John Kane – Jordan HS
Julie McCall – Nelson MS
John Solomon – MacArthur ES
Kevin Quinn – Los Cerritos ES
Maritza Summers – Mann ES
Sybil Baldwin – CDC
Maria Garcia – HS
This week's ask…
You are in luck! If you haven't reached out and wrote a letter to the Board of Education yet, and we understand, there is too much on your plate, your opportunity has arrived again. The theme for this week is school safety. Last Wednesday's Board of Education meeting touched on the issue of school safety. How is your site's safety? What is working, what is not? Are there solutions that haven't been put out into the ethos? Your voice matters.
Long Beach Unified School District's YouTube ChannelWatch Live on Wednesday, October 6 @ 5:00 p.m. LBUSD YouTube Channel
---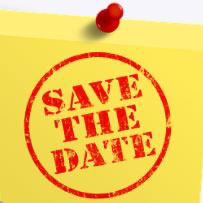 Site Representative Training – Virtual Academy – Zoom
10/20/2021 4:00-5:00 p.m. To register, email Veronica Castillo at vcastillo@talb.org
Know Your Contract – Virtual Academy – Zoom
10/21/2021 5:00-6:00 p.m. To register, email Veronica Castillo at vcastillo@talb.org

New Member Orientation
New to the District? – TALB Mixer – Zoom
10/27/2021 5:00-6:00 p.m. To register, email Veronica Castillo at vcastillo@talb.org
Evaluation Forum
12/2/2021 4:00-5:00 p.m. To register, email Veronica Castillo at vcastillo@talb.org
CTA Conferences & Grants
LGBTQ+ Issues Conference – October 29-31, 2021, Palm Springs
Application Cut-off extended to: September 12, 2021 at Midnight
Issues Conference – January 21-23, 2022, Las Vegas
Application Cut-0ff: November 8, 2021 at Midnight
Equity & Human Rights Conference – March 4-6, 2022, Location TBD
Application Cut-off: January 3, 2022, at Midnight
Good Teaching Conference South – March 18-20, 2022, Garden Grove
Application Cut-off: January 3, 2022 at Midnight
For full details and to apply for a grant, go to www.CTA.org/grants.
---
California Today: A Fraught History With Childhood Vaccines
In some ways, Gov. Gavin Newsom's recent decision to require Covid-19 vaccinations for all schoolchildren as early as next year is straight out of the California pandemic playbook.
We were the first state to put into place a stay-at-home order in March 2020, the first to require vaccines for all state workers and the first to mandate masking in schools.
But there's more to Newsom's latest announcement: California has long struggled with low childhood immunization rates — and resorted to laws to help raise them.
In the early 2000s, as unfounded claims about vaccines proliferated and celebrities jumped onto the anti-vaccine bandwagon, vaccine resistance took root in many left-leaning communities, including large parts of California. Between 2001 and 2014, the percentage of California parents choosing not to vaccinate their kindergartners more than tripled, pushing the state's childhood vaccination rate to among the lowest in the nation.When a measles outbreak that started at Disneyland infected more than 150 people in 2014, scientists blamed it on rising numbers of unvaccinated children.
The state's vaccination rates eventually began to rise a few years later, after new laws greatly limited the ability of parents to opt out of childhood immunizations.>Fast-forward to the pandemic: Covid-19 vaccines are available to people 12 and older, and California has one of the highest vaccination rates in the country.
Some of that widespread coverage, however, is because of vaccine requirements here, such as for students in the University of California system, health care workers and teachers.
Newsom extended those vaccine mandates on Friday, adding a coronavirus vaccine to the other inoculations that are required for nearly seven million students to attend K to 12 schools in person. Los Angeles Unified and a handful of other districts had already approved similar requirements for older children; a vaccine could be rolled out for 5- to 11-year-olds in November.
The governor said he expected that the requirement — which is contingent for each age group on full approval from the Food and Drug Administration — would apply to grades seven and up starting in July, in time for the next fall semester. He added that parents could cite medical and personal beliefs to opt out of the requirement.
"We want to end this pandemic," Newsom said on Friday. "We are all exhausted by it."
California parents so far have largely been willing to vaccinate their children against Covid-19, perhaps because the threat feels imminent or because vaccine resistance has increasingly become more common among the far right.
---
DOJ to investigate threats against teachers, school board members nationwide
BY JORDAN WILLIAMS – 10/05/21 08:39 AM EDT
The Department of Justice (DOJ) announced that it is investigating threats made against teachers and school board members nationwide.
The agency said in a statement on Monday that it was launching a series of efforts "in the coming days" to address rising criminal conduct "directed toward school personnel."
The department said it was creating a task force to determine how federal enforcement tools could be used to prosecute criminal conduct toward teachers, and how to assist state and local authorities investigate such threats where such instances may not constitute federal crimes.
In addition, the department will create specialized training and guidance to help school board members and other potential victims ­­understand how to report threatening conduct and how to preserve evidence of the threats to aid in investigations.
The announcement comes after the National School Boards Association (NSBA) asked President Biden for "immediate assistance" to help teachers, school board members and students who have seen threats over mask mandates and critical race theory.
The letter noted that law enforcement in some communities needed extra help monitoring threat levels, and specifically asked for resources from the DOJ, FBI, U.S. Secret Service, Department of Homeland Security and U.S. Postal Inspection Service. (Full Story)
---
Bracing for another pandemic winter….
By Jonathan Wolfe N.Y. Times<
The second full winter of the coronavirus is on the horizon, and soon, many of us will be headed indoors where the risk of transmission of the virus is greater.
This year, things look different — we have multiple vaccines that offer powerful protection from the virus. But the more contagious Delta variant is still a threat, and we have yet to live with it under winter conditions.
To help us prepare for the colder months, including holiday planning, I checked in with Tara Parker-Pope, the founding editor of Well.
As we head into fall and winter, where we are in the pandemic?
The pandemic isn't over, but I also think, if you're vaccinated, you should be able to do the things that are most important to you by taking reasonable precautions. I'm an optimist. We have the tools we need — vaccines, boosters, masks, home tests, even air cleaners — to help lower risk and get back to life.
How should we prepare for the colder months?
To start, get vaccinated, get your booster if recommended, get eligible kids vaccinated, get a flu shot and upgrade your mask. I really like the KF94. We still have to take precautions, but it's so much better than last fall and winter when nobody was vaccinated. I still avoid crowds, indoors and outside, and wear a mask while shopping. It's always safer to socialize outdoors, but I don't think we all have to freeze outside in order to see each other this year. If everyone at your small indoor gathering is vaccinated, symptom-free and taking precautions in daily life (like wearing a mask), you should trust your vaccine to protect you. If someone in your group is medically vulnerable, ask everyone to screen with a home test and use a portable air cleaner to further lower risk.
What lessons from last fall and winter should we keep in mind?
I think it's important to remember that even if you're vaccinated, risk is cumulative. Decide your priorities — keeping your kids in school, seeing family during the holidays, spending time with close friends — and skip the less important stuff. Budget your risk. Don't go to a crowded holiday party two days before you visit grandma.
What are your plans for the holiday season?
I plan to travel for Thanksgiving and will wear my mask full time on the plane except to drink water. I'll skip the airplane meals, and my small group of five will use home tests to make sure no one is infectious.
What are curveballs that would make you reconsider your winter plans?
Think about Covid as you would the weather. You'd change your travel plans during a snowstorm, and a significant spike in Covid cases this winter may be a reason to rethink travel too.
But it really depends on the personal health risk of everyone involved. Vaccines protect us, but they're not 100 percent. I think if we've learned anything during this pandemic, it's that things can change by the month, the week and the day. Go ahead and make plans, but be ready with a Plan B (like driving instead of flying or moving the gathering outdoors) in case the forecast changes.
strong>We should probably talk about unvaccinated relatives …
Many of us have relatives who refuse to get vaccinated. It's the unvaccinated people in the group who are at highest risk of getting Covid, but breakthrough infections can happen, especially to those who are medically vulnerable. If everyone at the gathering isn't vaccinated and you must go, try to move it outside. Ask everyone in the group, the vaccinated and the unvaccinated, to take a rapid home test to make sure no one is infectious.
More from Tara:
How to use an at home rapid test, if you're lucky enough to find it.
We asked readers how they're approaching the next few months, including the holiday season. A huge thanks to everyone who wrote in. Here's a selection:
Your winter plans
"I won't cancel my annual Christmas party. Instead we'll scale back and request vax or testing. We need to maintain connection, be merry together and celebrate life. I'm ready to acknowledge that Covid is the new reality we must live with." — Jyoti Jani Patel, Seattle.
"I am literally grasping at straws at this point. Last week I ordered a doughnut pan thinking that I would teach myself how to make doughnuts as a way to cope with yet another pandemic winter. I don't even like doughnuts, so obviously I'm losing what's left of my mind. I'm not sure which potential winter coping strategy I'll explore next (maybe soap making?), but I'm sure that it will also reflect my current level of desperation." — Molly, Maine
"Last year my anti-vax family continued to gather through the entire holiday season while I chose not to gather to save their lives. Even after being hospitalized with Covid this past May, they still won't get vaccinated. So what changed? Last year I wanted to gather with my family. This year I don't want to. And, I don't think I will ever again." — Melody Marler, Orange County, Calif.
"This year I will functionally act as though the pandemic is over, aside from Covid testing after known exposures. As a transgender woman who derives social well-being and comfort primarily from rave spaces and gay social gatherings, the pandemic forced a recognition of how important social contact was for my mental health, and for the health of my community. It was impossible not to notice the uptick in suicides among trans women last year, which even in normal times are extremely elevated. My social joy, and the social joy of those around me, is not frivolous. It is quite literally lifesaving. I will not abandon that again." — Julia R, Brooklyn
"We are a Navajo and Mexican heritage family, with a son who is 7, so we're maintaining stringent winter precautions until our kiddo can access a vaccine. We've added outdoor heaters to our patio and are grateful for mostly mild winters in New Mexico. Our attitude remains the same as last year, since our child is still vulnerable as a member of two cultures that are disproportionately impacted by Covid-19." — Jennifer Cruz, Albuquerque
"We're going to the Metropolitan Opera thirty times." — Vincent DePasquale
"I feel pretty defeated. I am single and I live alone. Last winter, I powered through on the pride and strength of knowing that I was helping other people. The loneliness has become a little overwhelming now, though. I plan on being cautious this winter — that won't change — but I am worried that I won't weather it well at all. You start to question your actions and choices because they are different from a lot of people around you, and that just adds to the feeling of isolation and loneliness. Unlike what the poster in my window says, I don't think "We are all in this together." — Joanna Miller, Louisville, Ky.
"I am approaching the pandemic winter with boundless love. My husband and I were married in his native country shortly before we even heard of Covid-19. After wrangling with immigration during the pandemic, a bout of digital romancing via Zoom and WhatsApp, we were reunited this past summer in my adopted state of California. Hunkering down indoors for a second winter seems to be an opportunity for us to have the honeymoon we missed out on." — Honey Obeng, Victorville, Calif.
COVID Safety Protocols Not Being Followed?
If protocols are not being followed, please call the District's COVID hotline at 562-204-6075 and or call the TALB office at 562-426-6433. The California Department of Public Health issued a requirement to School Leaders for universal masking for indoors, K-12 on August 23, 3021. It is a lengthy read, but non-compliance may have ramifications beyond the local employer – excerpt below:
Third, certificated individuals—including school administrators—may be subject to referral to the Commission on Teacher Credentialing for disciplinary action for violating a mandatory legal duty to implement the masking requirement and knowingly exposing students to preventable harm. (See Educ. Code § 44421 [authorizing discipline for "refusal to obey . . . laws regulating the duties of persons serving in the public school system"].)
Update your Beneficiaries
The cycle of life. Every year we have a few members pass. Your TALB/CTA/NEA membership provides a survivor's benefit up to $6,000.00. Sadly, every now and again, we have a member pass who did not update their beneficiaries. We can only issue the benefit to the individual(s) listed on your survivor's benefit form. Life comes at you fast. Relationships change. If you have any questions about your survivor's benefit please call the office at 562-426-6433.
---
Federal Funding to Enhance Facilities
What condition is the furniture in your classroom? LBUSD is planning on using Federal Funding to provide facility improvements.Learning and play spaces across the Long Beach Unified School District will soon see enhancements designed to move the needle on student learning and safety. Facilities upgrades are one of several infrastructure improvements outlined in the LBUSD's Learning Acceleration and Support Plan, which aims to elevate the educational experience for all students and offer interventions to learners who need additional support.
Upgrades to areas outside of the classroom start this summer and will be completed before the 2022-23 school year.
Bottle filling stations will be installed at all 85 district schools, providing students access to cool, clean drinking water and the hydration needed for a full day of learning and activities. More than 200 stations will be installed by December. (More Information Here)
---
Public Schools Long Beach Students Deserve
With Long Beach Unified School District set to receive over $460,000,000.00 in State & Federal aid, it is high time we look at the services we provide to our students.
Class Sizes/Ratios
Counselors
Librarians
Nurses
Psychologists
Speech Pathologists
Please start the conversations now, we will need to organize before Executive Staff make all the decisions and allocate all the resources.
---
---