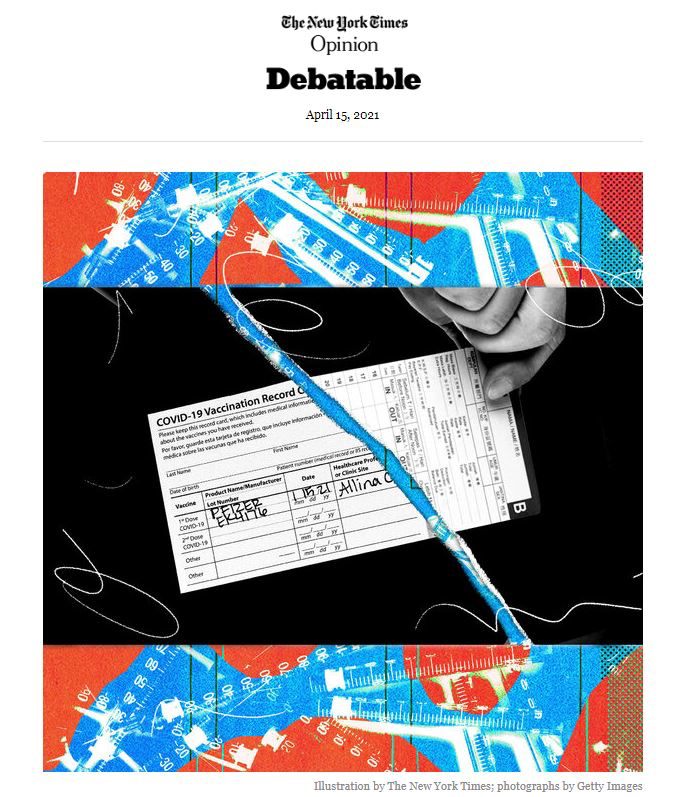 By Spencer Bokat-Lindell, Staff Editor, Opinion
In the pandemic's earlier stages, before a coronavirus vaccine even existed, assuaging skepticism about it was a charge that seemed at once urgent and almost wishful, like taking pains in the middle of a drought to guard against the next season's floods. But four months into the U.S. vaccination drive, there are already signs of rain: In several states now, vaccine supply appears on the verge of outstripping demand, even as the country remains at least some 100 million immunizations away from herd immunity.
Faced with the prospect of a protracted public health crisis, a growing number of colleges and employers have said they will require their students and workers to get vaccinated. Such mandates played an important role in fighting smallpox in the United States a century ago. Are they a necessary step in the path toward herd immunity or an unethical, potentially illegal policy that could set the country back? Here's what people are saying.
Could Americans really be required to get vaccinated?
It depends on who would be doing the requiring.
Private vaccine mandates have broadly been considered legal:
Since the 2009 swine flu pandemic, the Equal Employment Opportunity Commission has held that employers are allowed to require their employees to receive certain vaccinations, provided they are offered reasonable accommodations based on religion or disability.
As Dorit Rubinstein Reiss, a professor at the University of California Hastings College of the Law, also points out, "the general legal reality is that employment in the United States is at-will, and employers can fire employees for almost any reason, with few exceptions from anti-discrimination laws."
For government mandates, it's a little more complicated:
Since 1905, when the U.S. Supreme Court let stand a Massachusetts law that levied fines against people who refused smallpox inoculation, the courts have routinely upheld the states' authority to enforce vaccination if necessary for public health. It is because of that precedent that all 50 states have been able to impose school immunization requirements. Adult mandates are less common, but at least 16 states require some form of vaccination for postsecondary education.
Much more uncertain is whether the federal government can issue vaccine mandates outside of the military; its authority to do so has never been tested in court, MaryBeth Musumeci and Jennifer Kates Follow write for Kaiser Health News.
Covid vaccine mandates will almost certainly encounter legal trouble, whatever form they take. That's because the Food and Drug Administration has authorized them for only emergency use. Under the 2004 federal law that governs emergency use authorization, or E.U.A., individuals must be informed "of the option to accept or refuse administration of the product, of the consequences, if any, of refusing administration of the product." Many legal experts have interpreted this language to mean that mandatory Covid vaccination would be illegal until the F.D.A. grants full approval.
The E.E.O.C., for its part, has not waited for that step: In December, the agency said employers would be within their rights to require Covid vaccination and bar employees who refused from the workplace. Still, "there almost certainly are going to be legal challenges because the anti-vaccine movement is already preparing for them," Reiss says. "The main arguments will include the E.U.A. question and the fact that these vaccines are early" in use.
Who should mandate Covid vaccination?
In The Times, Ezekiel J. Emanuel, Aaron Glickman and Amaya Diana argue that health care organizations should be the first institutions to impose mandates on their employees, obligated as they are to protect patients. According to a survey conducted by the Kaiser Family Foundation and The Washington Post, 18 percent of all frontline health care workers say they do not plan to get a shot, including 24 percent of nursing home workers.
"This vaccine hesitancy can have consequences," they write, noting that 11 percent of skilled nursing facilities nationwide have recently seen at least one staff case of Covid-19. "None of us likes being told what to do. But getting vaccinated is not just about our personal health, but the health of our communities and country."
But others argue that vaccine mandates, if they must be imposed, should come from the state, not employers. "When a company demands that its employees should be vaccinated, this dictate expresses the private power of capital over individuals in ways we should be reluctant to accept," Katie Attwell and Mark Navin write in The Times. "It's different when the government requires vaccinations, since mandates are typically introduced, removed or modified by democratically elected legislatures, lending legitimacy to public efforts to govern people's immunization choices."
The case against vaccine mandates
Legal issues aside, mandating vaccines that have not received full authorization from the F.D.A. would raise serious ethical concerns, Aaron Siri argues in Stat. While the F.D.A. set a very high standard for authorizing Covid vaccines for emergency use — "a clear and compelling" demonstration of safety and efficacy from a Phase 3 clinical trial — it may still be a few months before vaccine makers receive full approval.
"The abbreviated timelines for the emergency use applications and authorizations means there is much the F.D.A. does not know about these products even as it authorizes them for emergency use, including their effectiveness against asymptomatic infection, death, and transmission," Siri writes.
There's also a risk that vaccine mandates will backfire, as a December article in the Journal of the American Medical Association argued. "Mandates can undermine public support, creating a backlash and even reducing vaccine uptake," Lawrence O. Gostin, Daniel A. Salmon and Heidi J. Larson wrote.
Their fears were not unfounded: As Attwell and Navin note, the few private mandates that do exist have already received political pushback.
In New Jersey, a Republican lawmaker is proposing a law that would make Rutgers University revoke its mandate for students.
It seems unlikely that those same legislatures would impose their own mandates, and President Biden has said he will not impose a federal one. Even if the political will existed to pass such policies, it's not clear how they would be enforced.
What are the alternatives? Legal, management and medical experts have proposed a number of less heavy-handed measures that can be used to encourage vaccination:
Medical institutions, for example, could prompt clinician assistants to ask patients about getting vaccinated, which has been shown to increase flu vaccination rates by nearly 10 percentage points.
More colleges and universities could adopt "soft mandates": requiring unvaccinated students to continue weekly asymptomatic testing, as the University of California, San Diego, is planning, or exempting vaccinated students from campus mask mandates, as Dickinson State University says it will do.
Employers can create their own positive incentives, too, Attwell and Navin argue. Target, for example, has said it will pay workers up to four hours of pay to get vaccinated, on top of covering Lyft rides to and from appointments. Other options might include workplace signage, gift cards and mobile vaccination clinics brought to the workplace.
"There's a lot of challenges with mandating employees to do anything," Nancy Rothbard, a professor of management at Wharton, told CNBC last week. "Trying really to incentivize people to get vaccinated, I think, is going to be a much more popular route than mandates."
Do you have a point of view we missed? Email us at debatable@nytimes.com. Please note your name, age and location in your response, which may be included in the next newsletter.
MORE ON VACCINE MANDATES
"Vaccine Mandates in the Time of Covid-19" [The Regulatory Review]
"When Are Vaccine Mandates Appropriate?" [AMA Journal of Ethics]
"Should health care workers be required to get coronavirus shots? Companies grapple with mandates." [The Washington Post]
"We Can't End the Pandemic Without Vaccinating Kids" [The New York Times]