Educators Breaking Boundaries Award
Presented by TALB and Security Benefit
In honor of Major League Baseball's Jackie Robinson Day on April 15th, 2018, TALB and Security Benefit have partnered together to create an award recognizing two Long Beach educators who have broken barriers either personally and/or with students while embodying at least five of Jackie Robinson's Nine Core Values.
Two recipients will receive an honorary plaque award, a Jackie Robinson Dodger Jersey #42 with the recipient's name printed on the back, recognized at a private ceremony at Dodger Stadium, and invited to watch a Dodgers game with fellow TALB members on April 15, 2018.
Nominations of TALB members that fit the criteria can be submitted by fellow TALB members, parents, or members of the community.  TALB members can self-nominate.
Deadline for online nominations is March 23, 2018.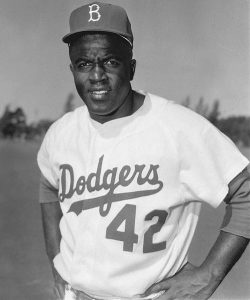 JACKIE'S NINE
Courage

Determination

Teamwork

Persistence

Integrity

Citizenship

Justice

Commitment

Excellence
Teaching Financial Literacy Award
Presented by TALB and First Financial Credit Union
The Teaching Financial Literacy Award recognizes (3) three Long Beach educators who have taught financial literacy to their students.
Examples may include elementary teachers that have found a creative way to teach students how to count money; middle or high school teachers that have taught students how to balance a check book; teachers that show students how to manage income, pay expenses, save money, and/or use credit cards responsibly.
Award recipients will be presented with a distinguished plaque at the annual TALB Parking Lot BBQ on California Day of the Teacher and also at the annual TALB Unity Celebration awards banquet held in June.
Deadline for nominations will be announced. 
All TALB members are eligible. Members may nominate themselves or fellow colleagues.
Nominate a Member for the Teaching Financial Literacy Award